Cat Wheel Loaders:
910K Compact Wheel Loaders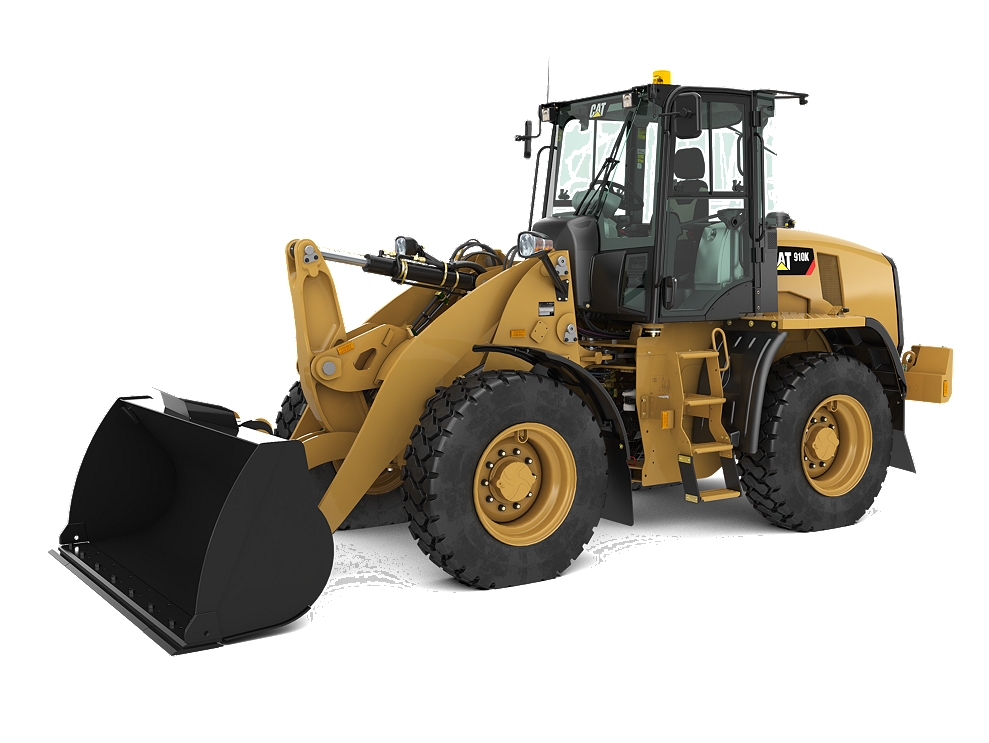 Operating Weight

15714.0 lb

Rated Bucket Capacity

3.3 yd3

Net Power

93.0 hp

ROPS

ROPS: SAE J1040 MAY94, ISO 3471-1994.
The Cat 910K Compact Wheel Loader sets a new standard for productivity, fuel efficiency and comfort. On-the-go operator tuned hydraulics and drivetrain adjust the machine's response to the task at hand. Low sound levels, large spacious cab and intuitive controls keep you working comfortably all day long. The new Cat Optimized Z-bar Loader linkage delivers the performance and breakout forces of a traditional Z-bar linkage with the parallelism and load handling capability of a tool carrier. Experience the new industry benchmark.
---
---
Benefits & Features
Parallel Lift Loader Linkage
Cat Optimized Z-bar Loader delivers enhanced visibility with maximum productivity.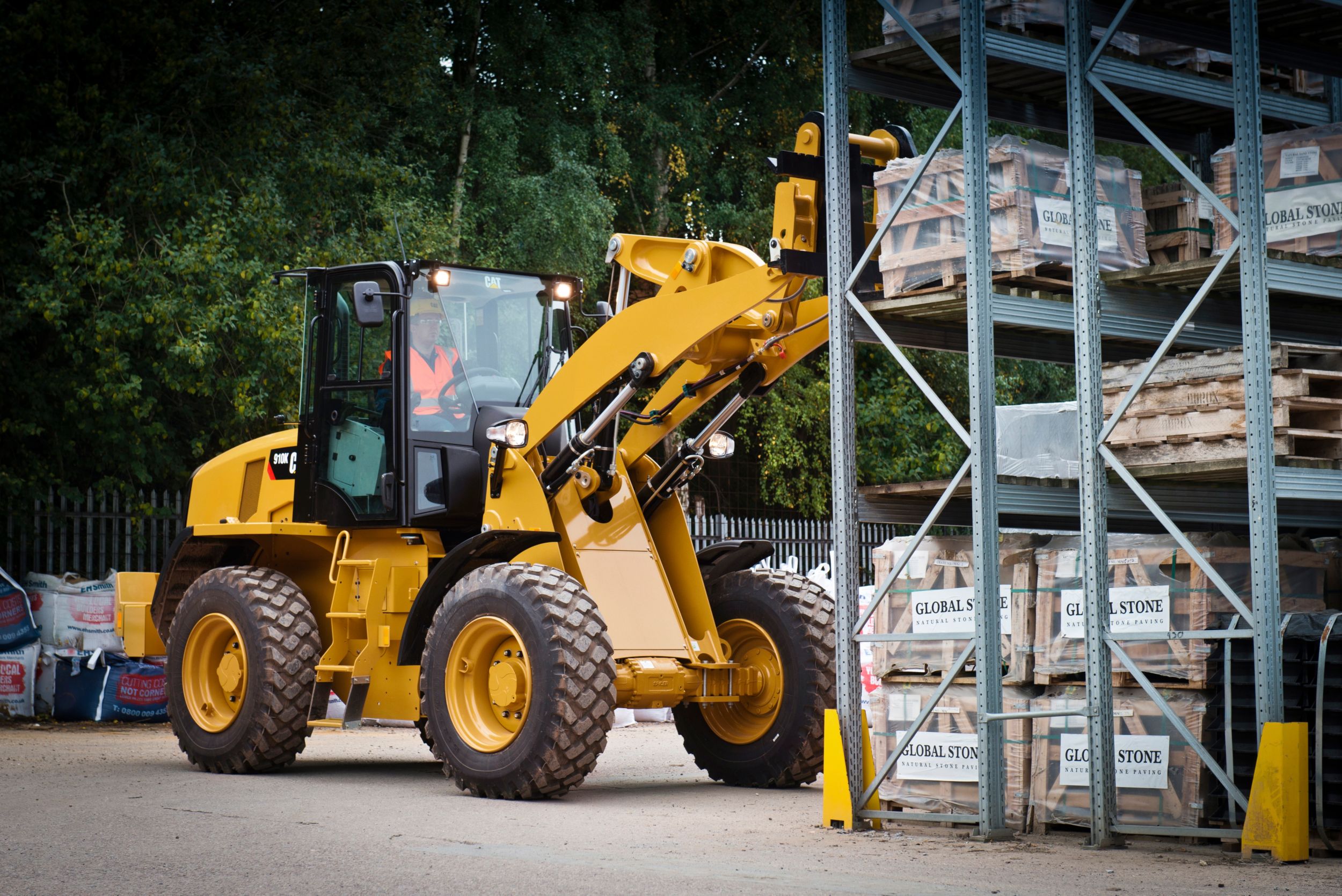 Cat Optimized Z-bar Loader
The Cat Optimized Z-bar Loader combines the digging efficiency of a traditional Z-bar with tool carrier capabilities for great performance and versatility.
Parallel lift and high tilt forces throughout the working range help you safely and confidently handle loads with precise control.
Linkage features excellent visibility to the bucket cutting edge and fork tips.
High Lift versions are also available on both models.
Industry Leading Operator Station
Superior visibility, ergonomics and comfort.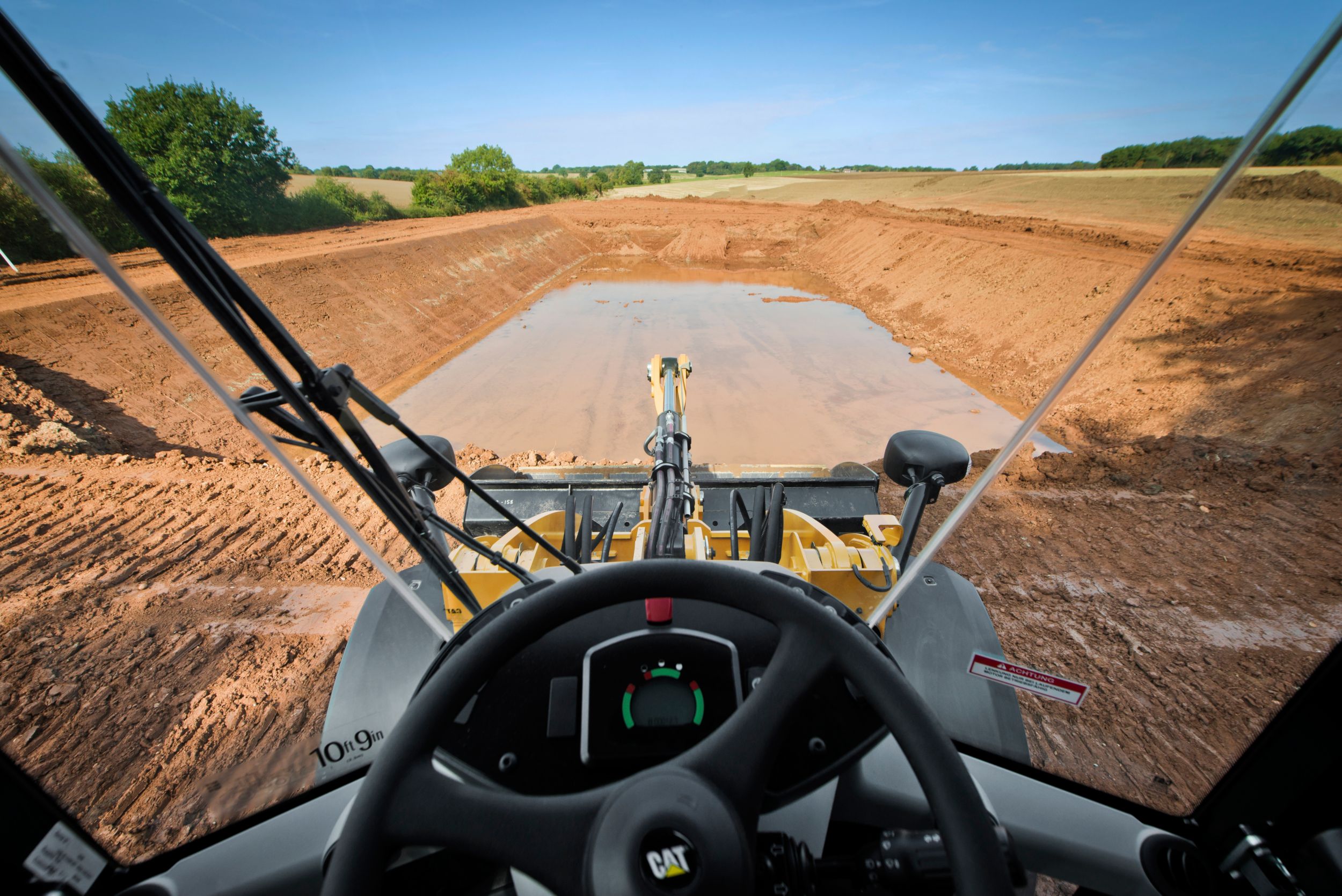 Best Seat on the Job Site
Enjoy all day comfort in the spacious K Series cab:
Low effort, responsive joystick includes integrated Forward/Neutral/Reverse switch, differential lock and continuous flow triggers along with optional third and fourth function auxiliary hydraulics.
Easy access to the cab with ergonomically placed grab rails, steps and large platform.
Low sound levels.
Superior visibility to the work tool due to the wide windshield and Cat Optimized Z-bar Loader.
Optional air conditioning with defrost/demist.
A standard heated, air suspension seat with lumbar and seat back tilt adjustment.
Easy to Use Instrument Panel and Display
The front console provides easy access to vital machine information, along with lights and ECO mode switches. Eco mode saves fuel and reduces engine wear with an engine speed control. The right hand console holds secondary functions beyond the all-in-one joystick controller.
New soft touch keypad on the right hand console contains new electronic functions and settings including Implement Modulation, Hystat Aggressiveness, Ride Control, Return To Dig, Lift Kickout, Engine Speed Control, and Rimpull Control.
LCD read out for: travel speed, speed range selection, hydraulic oil temperature, service hour meter, engine coolant temperature, and fuel level.
Indicators: diesel particulate filter, starting aid, engine, electrical, parking brake, directional turn signals, brakes, high beams, action required notice, continuous flow, hydraulic filter bypass, bucket float, creeper, directional F/N/R.
Power Train
Hydrostatic drive adjusts to be faster or smoother for the task.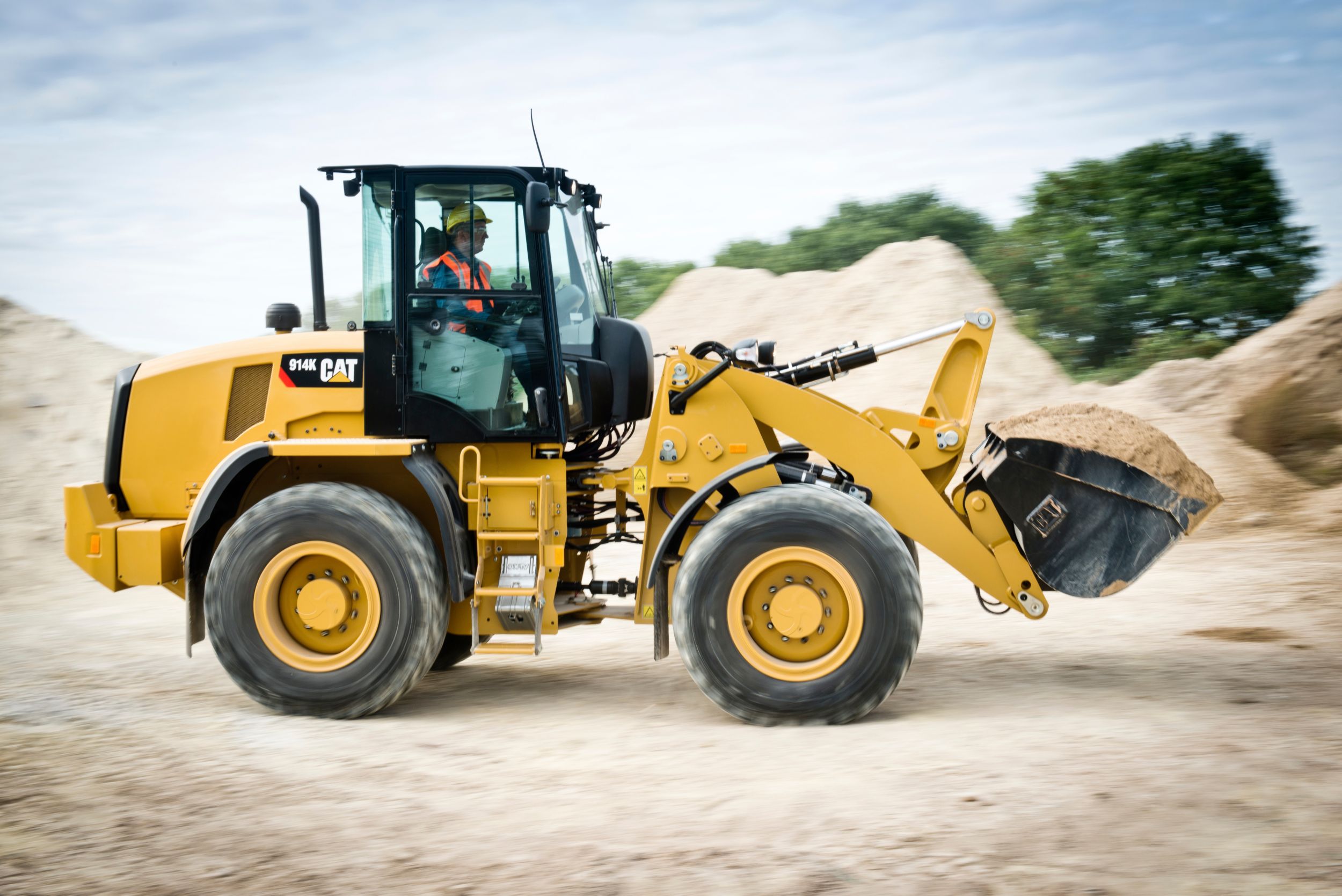 Intelligent Power Management
The Cat power train is computer controlled which actively monitors engine, operator input and drive train load, adjusting the hystat transmission to keep the machine working at peak efficiency.
Engine
The Cat C3.8 turbo engine provides cleaner, quieter operation while delivering superior performance and durability. The engine meets U.S. EPA Tier 4 Interim and EU Stage IIIB emission requirements. The engine also features:
The C3.8 uses an active regeneration system which requires no operator interaction under normal conditions.
Automatic, electronic, self-priming fuel pump encourages good maintenance practice. At the service interval, simply install a clean, dry filter element and then turn the ignition key to ON. The engine will be self-primed and ready to start in less than 20 seconds.
Three separate fill points accommodate differently sized containers.
The engine is serviceable from either side of the chassis.
The easily accessible diesel particulate filter has a minimum 3,000 hour cleaning service interval. The on-board monitor will advise when diesel ash cleaning service is needed.
Focused on fuel efficiency, significantly reducing owning and operating costs.
Easy access to all service points to get to work sooner.
Transmission
The Hystat Aggressiveness feature allows the operator to increase the directional shift responsiveness for faster loading cycles, or adjust for finer control for sensitive tasks such as moving heavy pallets.
Rimpull Control feature enables the operator to match available tractive power to underfoot conditions, helping reduce tire wear.
Creeper Control precisely adjusts the machine ground speed when using work tools such as brooms and snow blowers.
Electronic Engine Speed Control feature allows you to maintain constant engine RPM regardless of travel speed.
Thus, pairing Creeper Control and Engine Speed Control, the operator can easily control the hydraulic power going to the work tool, while optimizing ground speed for best operation.
Three speed ranges ensure maximum controllability for any task.
Axles, Brakes and Inching Function
Fully locking front and rear differential axles are standard and can be engaged at full torque on-the-go below 6 km/h (4 mph), with a button on the joystick. The enhanced modulation of the inching function utilizes the first half of brake pedal engagement to hydrostatically decelerate without any wear on the braking system. This allows the operator to find a rhythm in V-cycle truck loading, for instance, using the throttle and inching/braking pedal together for a faster loader while controlling ground speed. The brake system includes independent service brakes on the front and rear axles. The parking brake is mechanically activated and released with a hand lever next to the operator's seat.
Hydraulics
Operator tuned hydraulics matches responsiveness to the task.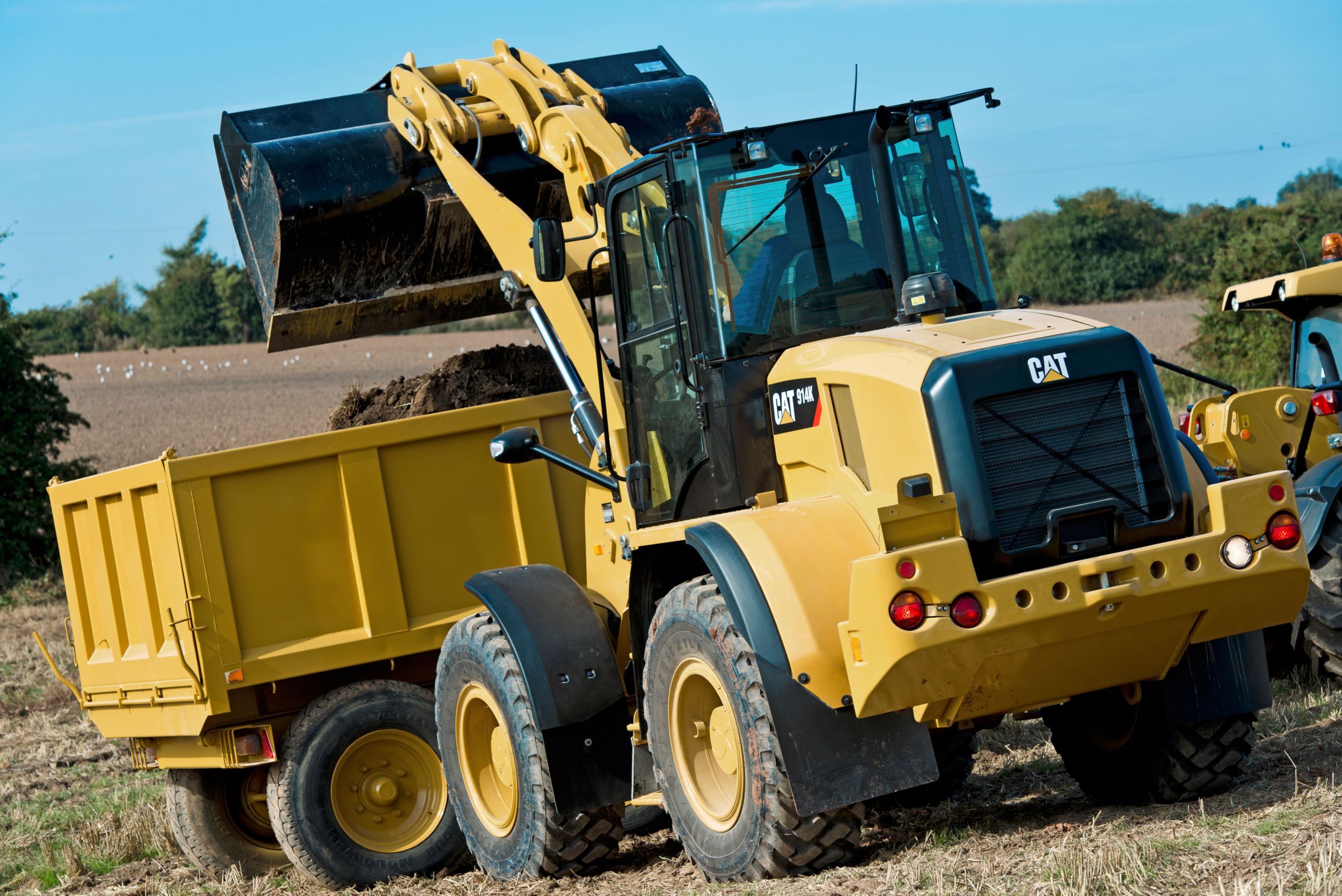 Hydraulic System
K Series machines feature a new electro-hydraulic control system. The hydraulic system in the 910K is powered by a gear pump for quick response times.
The new electronic joystick operation is finely tuned for smooth operation, yet fast cycle times.
The Implement Modulation feature provides three settings for faster, more responsive hydraulics for repetitive tasks like truck loading. Or, this feature can adjust for smoother hydraulics needed with heavy fork loads or more restrictive areas.
An electronic Return to Dig feature levels the bucket as the loader comes down after dumping. This speeds cycle times by letting the operator focus on the next dig point rather than setting the bucket position.
The Lift Kickout feature prevents the loader from exceeding a pre-set height, ideal for working inside a building with lower height restrictions. Once the joystick is pulled back into a soft detent, the operator releases the joystick as the hydraulics continue to the pre-set height.
The third function auxiliary hydraulics can be set for Continuous Flow when using hydro-mechanical work tools.
Ride Control is available to smooth the ride, keep the tires in contact with the ground and maximize material retention.
Work Tools
Do more jobs with one machine.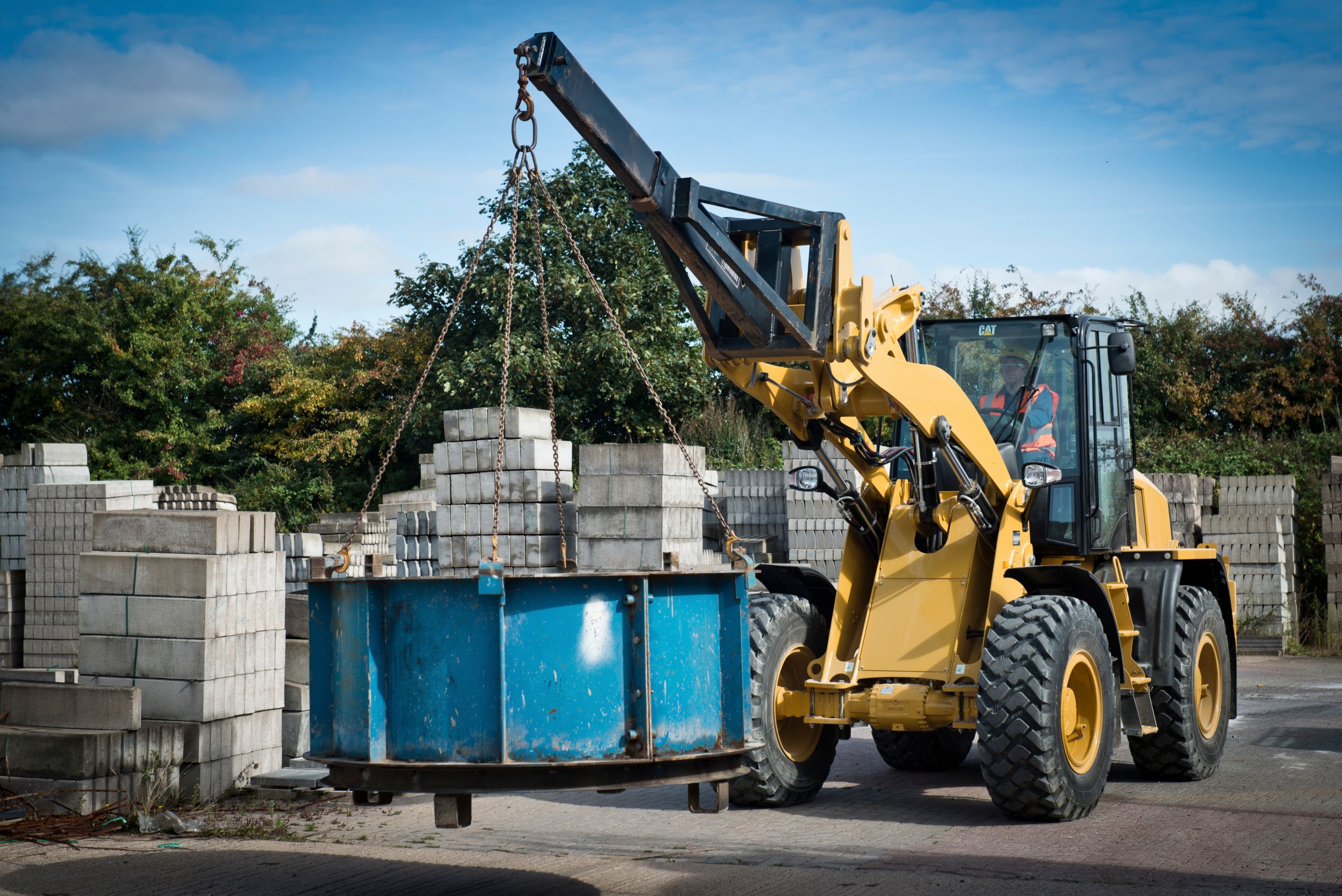 The Right Tool for the Job
An extensive range of work tools and bucket styles are available to make your Cat Wheel Loader one of the most versatile machines on the job site.
Performance Series Buckets
Performance Series Buckets utilize a system-based approach to balance bucket shape with the machine's linkage, weight, lift and tilt capacities. They deliver higher fill factors and better material retention for significant productivity and fuel efficiency improvements. The buckets feature a longer floor, open throat and curved side bars.
Additional Buckets
Light Material
Multi Purpose
Wood Chip
Material Handling Work Tools
Pallet Forks
Material Handling Arm
Work Tools for Special Applications
Brooms
Snow Pushers
Angle Blades
V-Plow Blades
Side Dump Buckets
Grapple Forks
Couplers
The Cat Integrated Toolcarrier coupler provides interchange with a multitude of new and legacy tools. An ISO 23727 coupler interface is also available for use with competitive work tools.
Options
Customize your machine to meet your needs.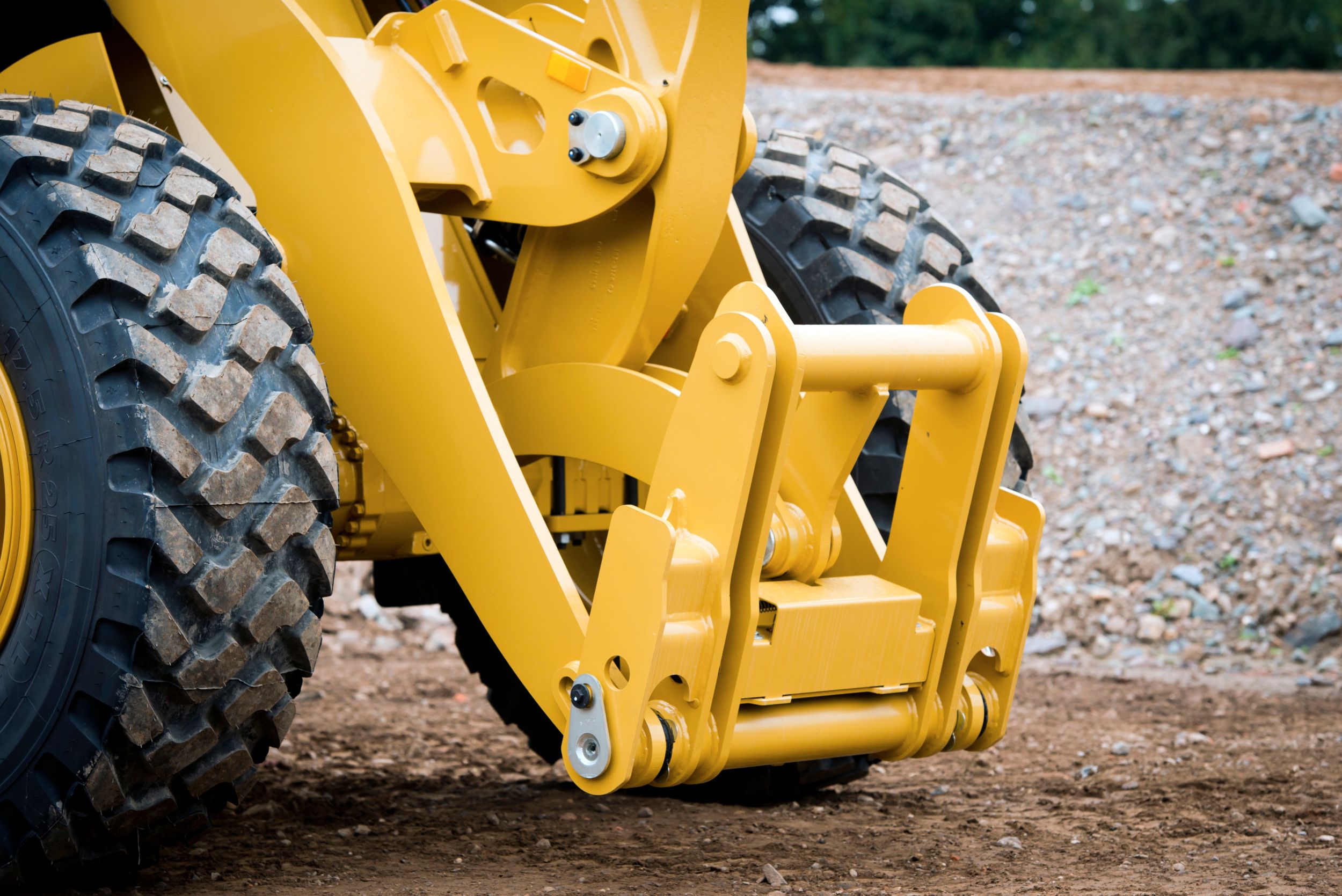 Configure the Machine the Way You Want It
A variety of options are available on the Cat K Series Compact Wheel Loaders to suit your specific operator comfort and application needs. See your Cat dealer for more information about the features below and additional options.
Additional options include:
Mudflaps and Fenders
Secondary Steering*
75 mm (3 in) Seat Belt*
Security System
Three Piece Wheel Rims
Snow Tires
Flexport™ Tires
Biodegradable Oil
Engine Coolant Heater
Rotating Beacon
Floodlights
Back-up Alarm*
License Plate Mount
Rear Window Shade
*Standard in some regions.
Serviceability
Easy service to keep your machine working.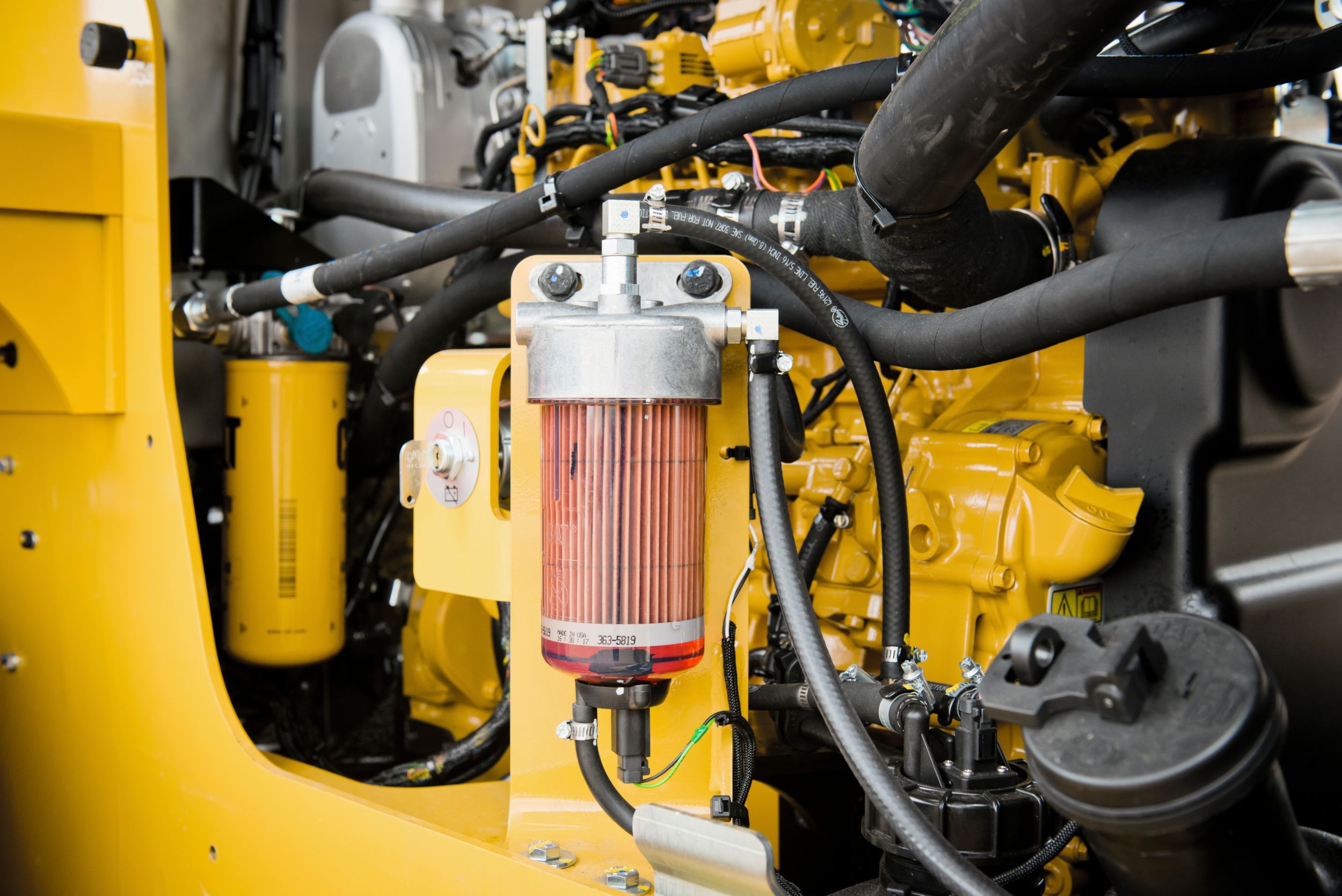 All service points are easily accessible. Three large service doors can be opened and closed in any order to give full access to filters and service points. Extended service intervals reduce service time and maximize uptime. Additional service features include:
Convenient access door for quick fueling through left service door.
Convenient access door for coolant fill.
Caterpillar electric fuel priming pump for ease of service.
Easy access to battery terminals for jump starts.
Single plane cooling system for engine and hydraulics.
Top mounted air conditioner condenser for easy clean out.
Product Link ready (standard).
Customer Support
Unmatched support makes the difference.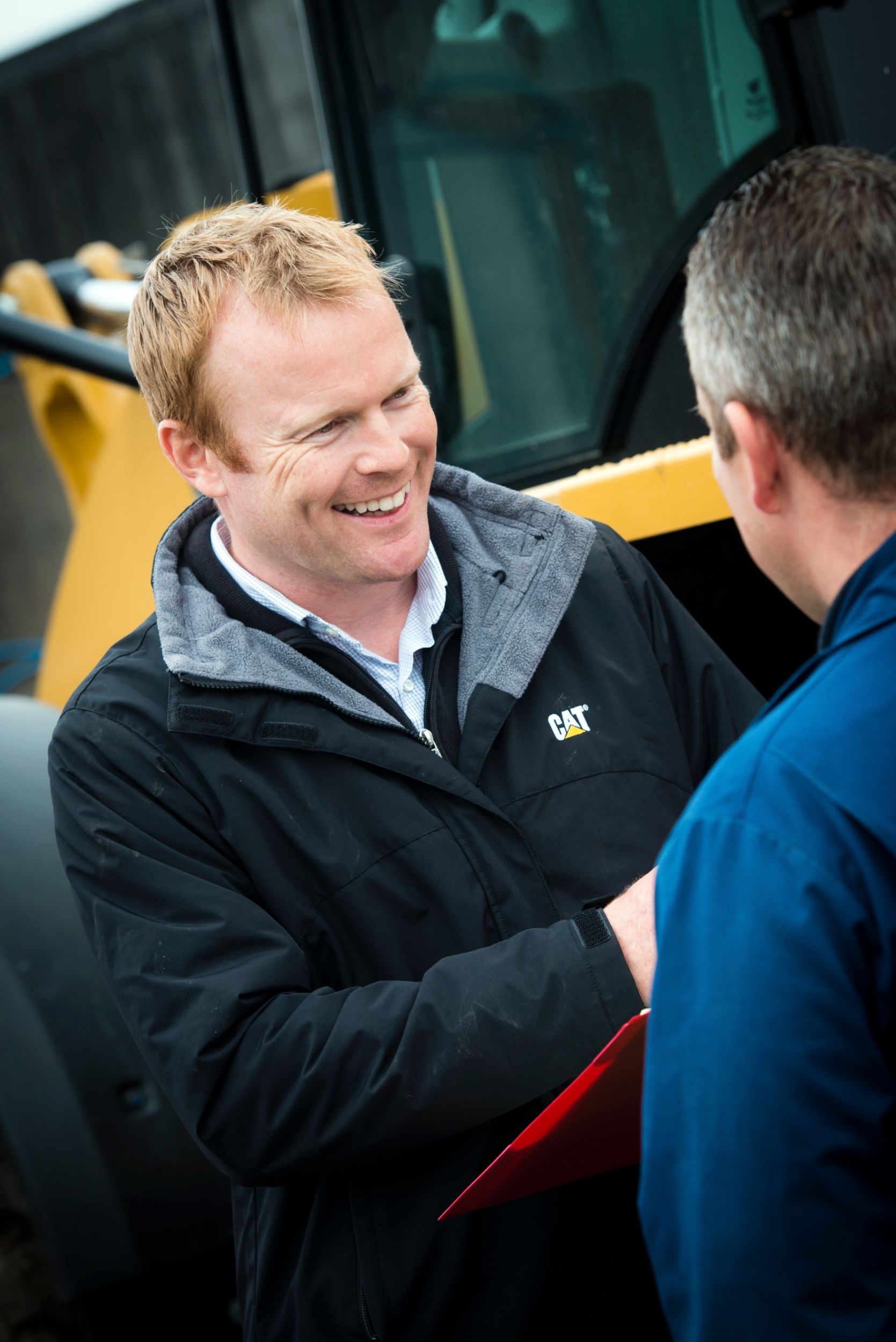 Renowned Cat Dealer Support
Your Cat dealer is ready to help you every step of the way. From new or used machine sales, to rental or rebuild options, your Cat dealer can provide an optimal solution to your business needs. Unsurpassed worldwide parts availability, trained technicians and customer support agreements maximize your machine uptime.
Product Specs
Weights

Operating Weight

15714.0lb

Operating weight - High Lift

16837.0lb

Operating weight - Standard Lift

15714.0lb

Operating Specifications

Rated Bucket Capacity

3.3yd3

Clearance: full lift and 45° dump

112.0in

Full Turn Tip Load

9958.0lb

Full turn tipping load - High Lift

8844.0lb

Full turn tipping load - Standard Lift

9460.0lb

Reach: full lift and 45° dump

29.0in

Steering articulation angle each direction

40.0Degrees

Engine

Net Power

93.0hp

Bore

3.9in

Displacement

231.8in3

Engine Model

Cat® C3.8 Turbo

Maximum Gross Power - ISO 14396

97.0hp

Maximum Gross Power - SAE J1995

97.0hp

Note

Engine meets U.S. EPA Tier 4 Interim/EU Stage IIIB emission standards.

Peak Torque

248.0lb ft

RPM at Peak Torque

1500.0RPM

RPM at Rated Power

2400.0RPM

Rated Net Power - ISO 9249/EEC

93.0hp

Rated Net Power - SAE J1349

92.0hp

Rated Torque

237.0lb ft

Stroke

4.7in

Torque Rise

17.0%

Maximum Gross Power

97.0hp

Cab

ROPS

ROPS: SAE J1040 MAY94, ISO 3471-1994.

FOPS

FOPS: SAE J/ISO 3449 APR98, Level II, ISO 3449 1992 Level II.

Sound

The declared dynamic operator sound pressure level per ISO 6396:2008 is: - Deluxe cab: 75 dB(A)

Service Refill Capacities

Cooling System

4.4gal

Fuel Tank

39.6gal

Hydraulic System

22.5gal

Axle - Front, center

1.98gal

Axle - Front, each hub

0.58gal

Axle - Rear, center

1.98gal

Axle - Rear, each hub

0.58gal

Engine Crankcase

3.4gal

Hydraulic Tank (refill)

15.9gal

Transmission (gear box)

0.85gal

Buckets

Bucket Capacities

1.2 m3-2.5 m3 (1.6 yd3-3.3 yd3)

General Purpose

1.2-1.5 m3 (1.6-2.0 yd3)

Type

Performance Series Buckets utilize a long floor and open throat resulting in easy loading and good material retention.

Transmission

Forward - High range

25.0mph

Forward - Low range, speed range 1

6.3mph

Forward - Low range, speed range 2

12.5mph

Reverse - High range

25.0mph

Reverse - Low range, speed range 1

6.3mph

Reverse - Low range, speed range 2

12.5mph

Type

Changing from Low Range to High Range is on-the-go for added convenience.

Type

Creeper control allows maximum speed range adjustability from 0 to 10 km/h (6 mph) in Speed Range 1.

Power Train

Brakes - Park brake

Cable applied, spring release

Brakes - Service brakes

Inboard wet disc

Front axle

Fixed

Front axle - Traction aid

Locking differential

Rear axle

Oscillating

Rear axle - Oscillation

±11 degrees

Rear axle - Traction aid

Locking differential

Type

Power train is fully hydrostatic, operating with twin motors on a gear reduction system to amplify torque.

Type

A built-in clutch on one motor de-clutches at higher speeds to gain maximum travel speed.

Tires

Note

Wheel sets are interchangeable between the 910K and 914K.

Tire size, non-pneumatic (Flexport)

53.5×9×16.5 (15.5/17.5×25 equivalent)

Tire size, optional

16.9-24 10PR

Tire size, optional

16.9-24 12PR

Tire size, optional

15.5-R25

Tire size, standard

15.5-25 12PR

Steering

Maximum flow - steering pump

15.9gal/min

Maximum steering torque - 0° (straight machine)

21993.0lb ft

Maximum steering torque - 40° (full turn)

17351.0lb ft

Maximum working pressure - steering pump

2683.0psi

Number of steering wheel turns - Stop to stop, turning wheel at <27 rpm

5.75 turns

Number of steering wheel turns - Stop to stop, turning wheel at >67 rpm

3.75 turns

Steering articulation angle each direction

40.0Degrees

Steering cycle times (stop to stop) - At 2,400 rpm engine speed, 90 rpm steering wheel speed

3.2Seconds

Steering cylinder: double acting - Bore diameter

2.4in

Steering cylinder: double acting - Rod diameter

1.4in

Steering cylinder: double acting - Stroke

15.7in

Type

Steering system uses a dedicated pump with dual double acting cylinders.

Loader Hydraulic System

Cycle time - Dump

2.0Seconds

Cycle time - Float

4.1Seconds

Cycle time - Lift

5.9Seconds

Cycle time - Lower, float

4.4Seconds

Cycle time - Rackback

3.0Seconds

Lift cylinders - Bore diameter

3.9in

Lift cylinders - Rod diameter

2.4in

Lift cylinders - Stroke

23.3in

Main relief pressure

3568.0psi

Maximum flow - implement pump - 3rd function

25.0gal/min

Maximum flow - implement pump - 4th function

25.0gal/min

Maximum pump flow

26.0gal/min

Maximum working pressure - implement pump

3046.0psi

Tilt cylinder - Bore diameter

3.9in

Tilt cylinder - Rod diameter

2.4in

Tilt cylinder - Stroke

22.8in
Equipment
Power Train

Cat C3.8 electronic turbo diesel engine; direct injection, fuel system: - Common rail fuel injection - 3 stage - U.S. EPA Tier 4 Interim/EU Stage IIIB - Active regeneration, in-cylinder dosing
Cooled EGR NOX reduction
Particulate matter reduction
Fuel: Ultra Low Sulfur Diesel @ <15 ppm
Engine Oil: CJ-4
Electric fuel pump with four micron filtration
S∙O∙SSM port, transmission oil
Hydrostatic transmission, 20 km/h (12.5 mph)
Lubed for life universal joints
Forward - Neutral - Reverse on joystick
100% locking differentials, while moving
Brakes, service: - Enclosed, wet-disc full hydraulic
Brakes, parking (also secondary brake): - Mechanical on drive-line
Radiator, serviceable core, single plane
Air cleaner, radial seal, dual filters
Air inlet heater starting aid
Cooling fan, hydraulic
Radiator expansion tank
Tires, 15.5-25 12PR

Loader

Parallel lift, Z-bar loader
Ground access grease points

Hydraulics

Automatic lift kickouts
Priority steering
Hydraulics, two valve, one joystick
Hydraulic diagnostic pressure taps
S∙O∙S port, hydraulic oil
Hydraulic oil cooler - single plane
Hydraulically driven cooling fan
Pump, gear

Electrical

80-ampere alternator
One 1,000 CCA maintenance free battery
Halogen flood lights (front and rear)
Directional Signals (front and rear)
12 volt direct electric starting
Ignition key start/stop switch
Switch, battery disconnect key
Steering wheel mounted warning horn
Product Link ready wiring

Operator Environment

ROPS/FOPS cab, pressurized and sound suppressed
Hydraulic control lever lockout
Electro hydraulic implement controls
Gauges: - Engine coolant temperature - Hydraulic oil temperature - Fuel level - Speedometer - Digital hour meter
Operator warning system indicators: - Brake charge pressure low - Engine malfunction - Park brake applied - Electrical system voltage low - Hydraulic oil filter bypass - Action indicator - Diesel particulate filter
Interior light
Door
Seat: - Fabric or vinyl - Adjustable height, backrest, armrest - Seat belt, retractable
Heater/defroster
Wiper/washer front (intermittent)
Wiper/washer rear
Tinted front glass, laminated
Side and rear glass, tempered
Adjustable steering column
Rear window defrost
Rearview mirrors, outside (two)
Storage box with cup holder
Ground level door release
Internal 12V power source
External 12V power source

Fluids

Extended life coolant antifreeze, protected to -36° C (-33° F) hydraulic oil
Cat Advanced Hydo 10

Chassis

Fenders, front and rear
Engine enclosure - lockable
Recovery hitch
Vandalism protection - locked service points
Counterweight

Regional Standards (as Required)

Alarm, back-up alarm
Chocks, chassis mounted wheel
Guard, bucket tooth or edge
Decals, roading speed
Decals, in cab, roof height
Beacon
Reflectors, roading
Plate, year of manufacture
Power train, high rimpull, 40 km/h (25 mph)
Turbine precleaner option
Loader arrangement, pin on, high lift
Loader arrangement, standard coupler
Loader arrangement, wide coupler
Loader, arrangement, wide coupler, high lift
Automatic bucket/fork positioner
Hydraulics, three valve, one lever
Hydraulics, three valve, one lever, high lift
Hydraulics, four valve, one lever
Lights, roading, RH dip
Lights, roading, LH dip
Lights, cab, working (four)
Fan cooling, on demand
Steering, secondary
Standard, canopy

Feature Package, Road

Ride Control, Creeper, Implement Modulation, Hystat Aggressiveness, Throttle Lock

Feature Package, Load

Return To Dig, Lift Kickout, Rimpull Control, Implement Modulation, Hystat Aggressiveness, Throttle Lock

Feature Package, Road And Load

Seat belt, retractable 75 mm (3 in)
Heater and air conditioner
Blind, rear
Security system, machine

Tires

15.5R25
16.9-24 10PR
16.9-24 12PR
Flexport

Limiter, axle oscillation

For Canopy Only

Guard, hose, three valve
Guard, hose, four valve
Guard, hose, three valve, high lift
Guard, coupler hose, standard lift
Guard, coupler hose, high lift

Fenders, mudflaps
Enclosure, sound suppression, EU
Enclosure, sound suppression, Blue Angel
Engine coolant, extreme temperatures
Hydraulic oil, biodegradable
Year of manufacture plate
Battery, heavy duty
Beacon, rotating
Harness, wiring, work tool
Alarm, back-up
Product Link
Cat radio
Tool box, lockable
License plate mount
Find a Whayne CAT

Location

or

Rep

Near You