Cat Wheel Loaders:
907M Compact Wheel Loader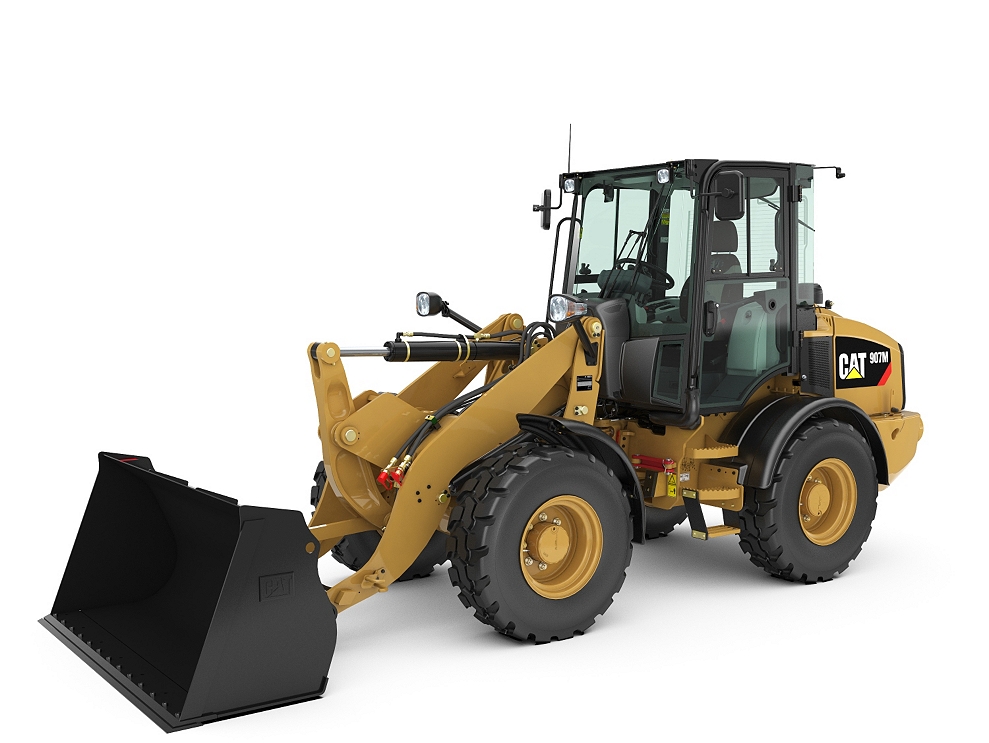 Maximum Gross Power: ISO 14396 (DIN)

74 hp

Operating Weight

12677 lb

Rated Bucket Capacity

1.31 yd3

Net Power

74 hp
The Cat 907M Compact Wheel Loader delivers high performance with outstanding versatility. On-the-go operator tuned hydraulics and drive train adjust the machine's response to the task at hand. Low sound levels, large spacious cab and intuitive controls keep you working comfortably all day long.
---
---
Benefits & Features
M Series Compact Wheel Loaders
A comprehensive range to suit all applications and environments.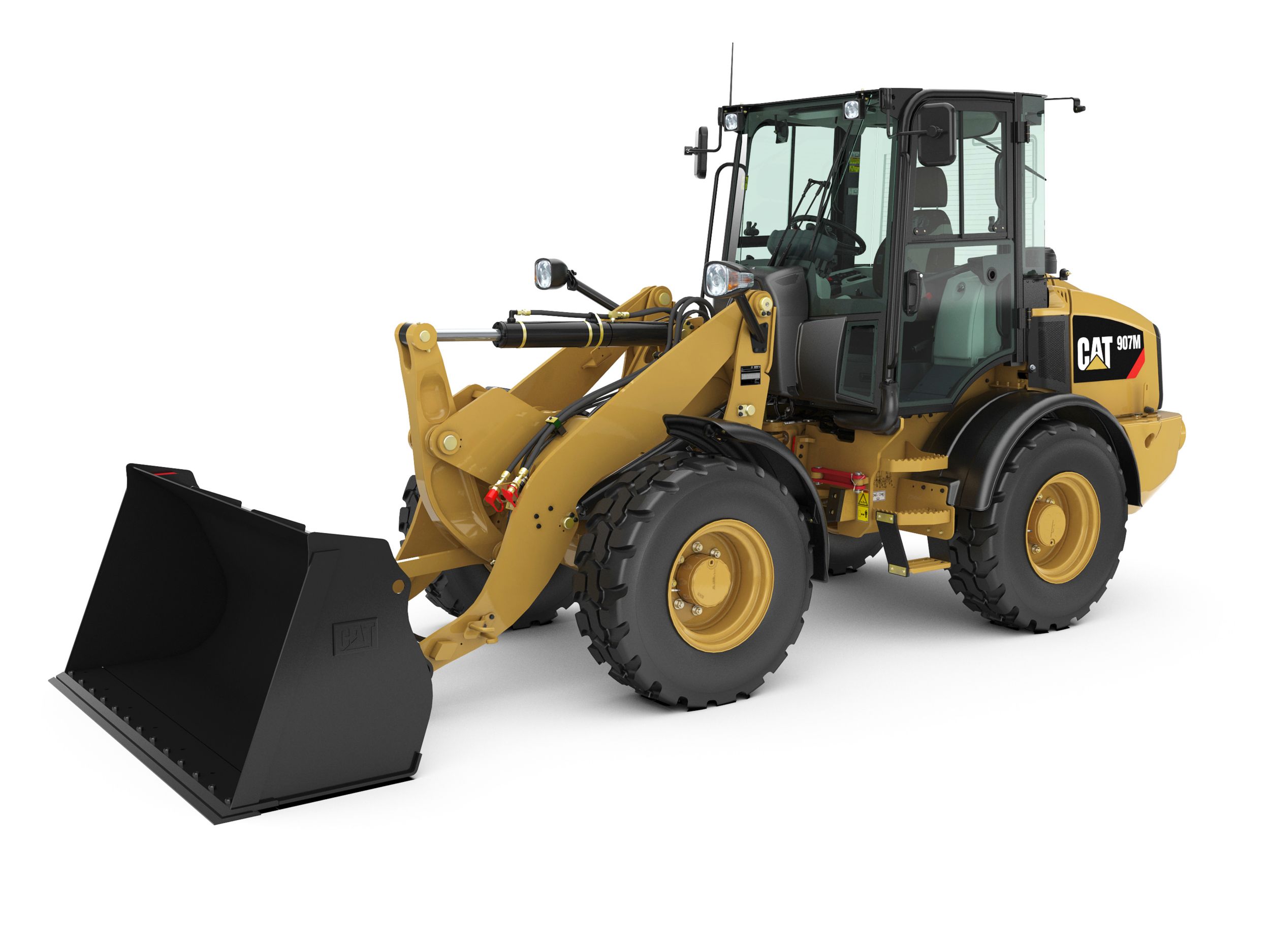 907M
With more operating capacity than the 906M and a higher mounted cab, this model can work in applications where clearance is not critical.
1.0 m3 (1.31 yd3) operating capacity
Standard height over cab
18" rim size
Parallel Lift Loader Linkage
Cat Optimized Z-bar Loader delivers enhanced visibility with maximum productivity.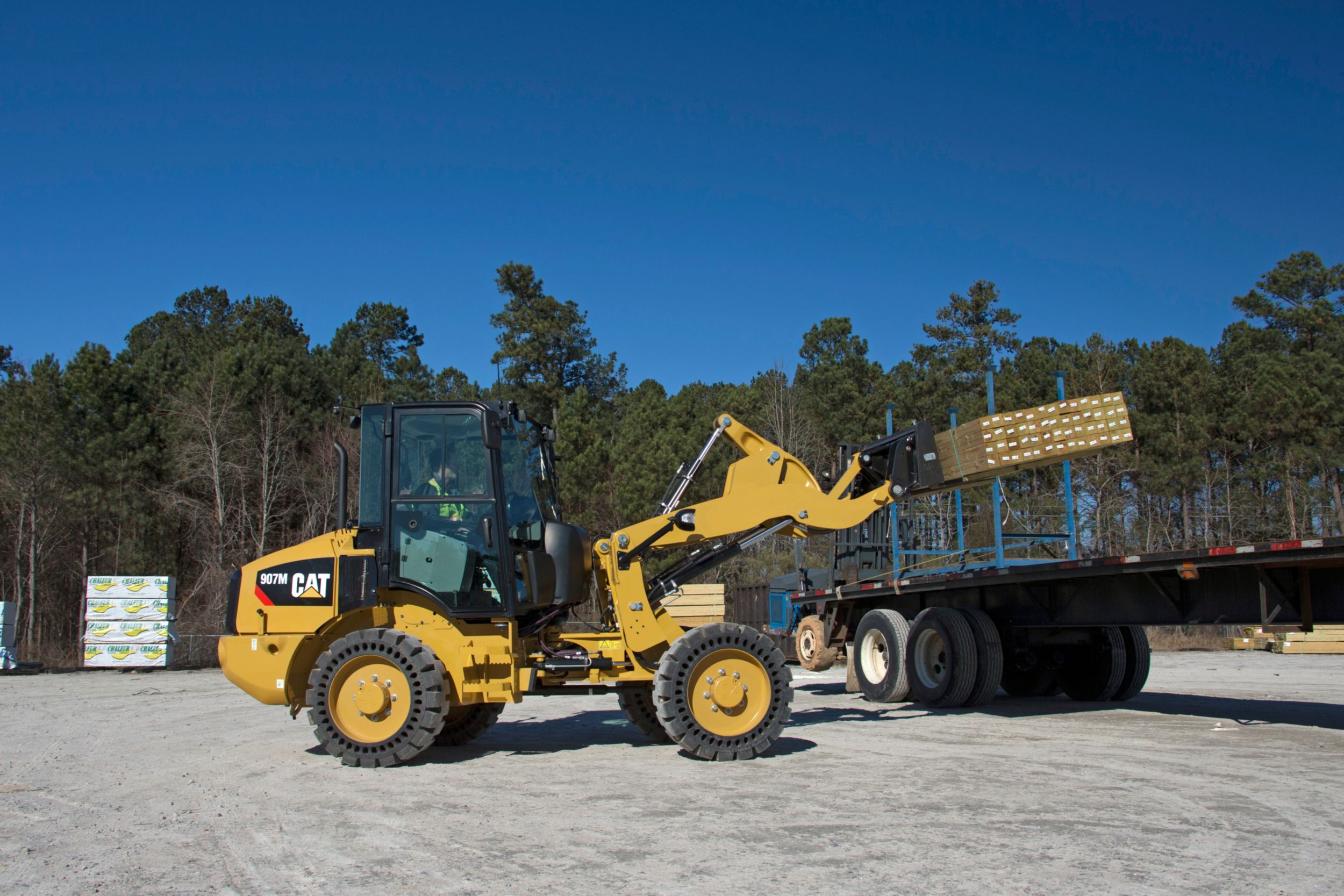 Cat Optimized Z-bar Loader
The Cat Optimized Z-bar Loader combines the digging efficiency of a traditional Z-bar with tool carrying capabilities for great performance and versatility.
Parallel lift and high tilt forces throughout the working range help you safely and confidently handle loads with precise control.
Linkage features excellent visibility to the bucket cutting edge and fork tips.
Industry Leading Operator Station
Superior visibility, ergonomics and comfort.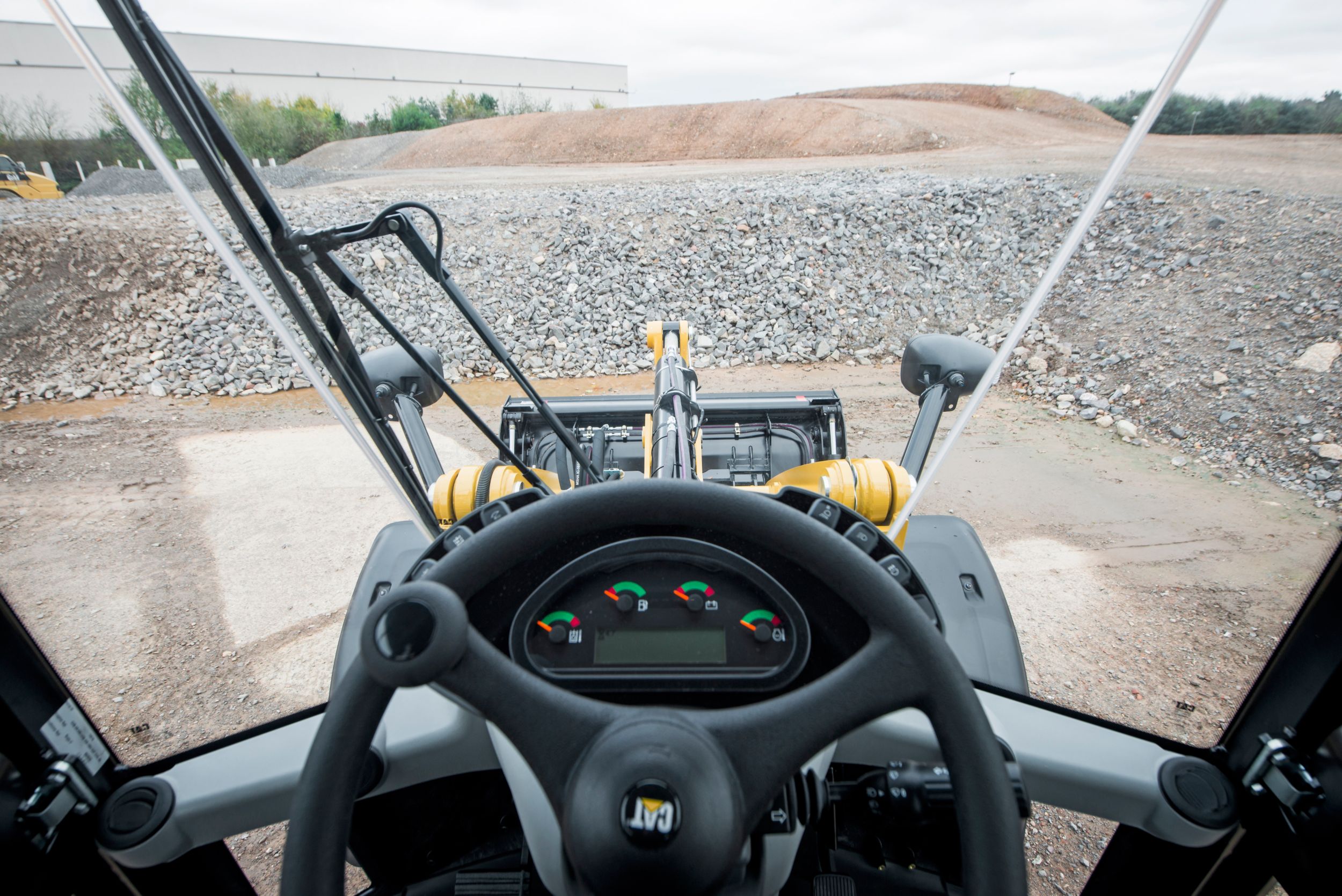 Best Seat on the Job Site
Enjoy all day comfort in the spacious M Series cab:
Low effort, responsive joystick includes integrated Forward/Neutral/Reverse switch, differential lock and continuous flow triggers along with proportional, third function auxiliary hydraulics.
Easy access to the cab with ergonomically placed grab rails, steps and large platform.
Low sound levels.
Superior visibility to the work tool due to the wide windshield and Cat Optimized Z-bar Loader.
Optional air conditioning with defrost/demist.
Optional heated, air suspension seat with lumbar and seat back tilt adjustment.
Easy to Use Instrument Panel and Display
The front console provides easy access to vital machine information, along with lights and ECO mode switches. ECO mode saves fuel and reduces engine wear with an engine speed control. The right hand console holds secondary functions beyond the all-in-one joystick controller.
New soft touch keypad on the right hand console contains new electronic functions and settings including Implement Modulation, Hystat Aggressiveness, Ride Control, Return To Dig, Engine Speed Control and Rimpull Control.
LCD read out for: travel speed, engine speed, speed range selection, hydraulic oil temperature, service hour meter, engine coolant temperature, and fuel level.
Indicators: diesel particulate filter, starting aid, engine, electrical, parking brake, directional turn signals, brakes, high beams, action required notice, continuous flow, hydraulic filter bypass, bucket float, creeper, directional F/N/R.
Power Train
Hydrostatic drive adjusts to be faster or smoother for the task.
Intelligent Power Management
The Cat power train is computer controlled which actively monitors engine, operator input and drive train load, adjusting the hystat transmission to keep the machine working at peak efficiency.
Engine
The Cat C3.3B turbo engine provides cleaner, quieter operation while delivering superior performance and durability. The engine also features:
The Cat C3.3B Tier 4 Final/Stage IIIB uses an active regeneration system which requires no operator interaction under normal conditions.
Automatic, electronic, self-priming fuel pump encourages good maintenance practice. At the service interval, simply install a clean, dry filter element and then turn the ignition key to ON.
The easily accessible diesel particulate filter has a minimum 3,000 hour cleaning service interval. The on-board monitor will advise when diesel ash cleaning service is needed.
Focused on fuel efficiency, significantly reducing owning and operating costs.
Transmission
The Hystat Aggressiveness feature allows the operator to increase the directional shift responsiveness for faster loading cycles, or adjust for finer control for sensitive tasks such as moving heavy pallets.
Rimpull Control feature enables the operator to match available tractive power to underfoot conditions, helping reduce tire wear.
Creeper Control precisely adjusts the machine ground speed when using work tools such as brooms and snow blowers.
Electronic Engine Speed Control feature allows you to maintain constant engine RPM regardless of travel speed.
Thus, pairing Creeper Control and Engine Speed Control, the operator can easily control the hydraulic power going to the work tool, while optimizing ground speed for best operation.
Three speed ranges ensure maximum controllability for any task.
Axles, Brakes and Inching Function
Fully locking front and rear differential axles are standard and can be engaged at full torque on-the-go below 6 km/h (4 mph), with a button on the joystick.
The enhanced modulation of the inching function utilizes the first half of brake pedal engagement to hydrostatically decelerate without any wear on the braking system.
The brake system includes independent service brakes on the front and rear axles. The parking brake is mechanically activated and released with a hand lever next to the operator's seat.
Couplers
Making the Compact Wheel Loader even more versatile.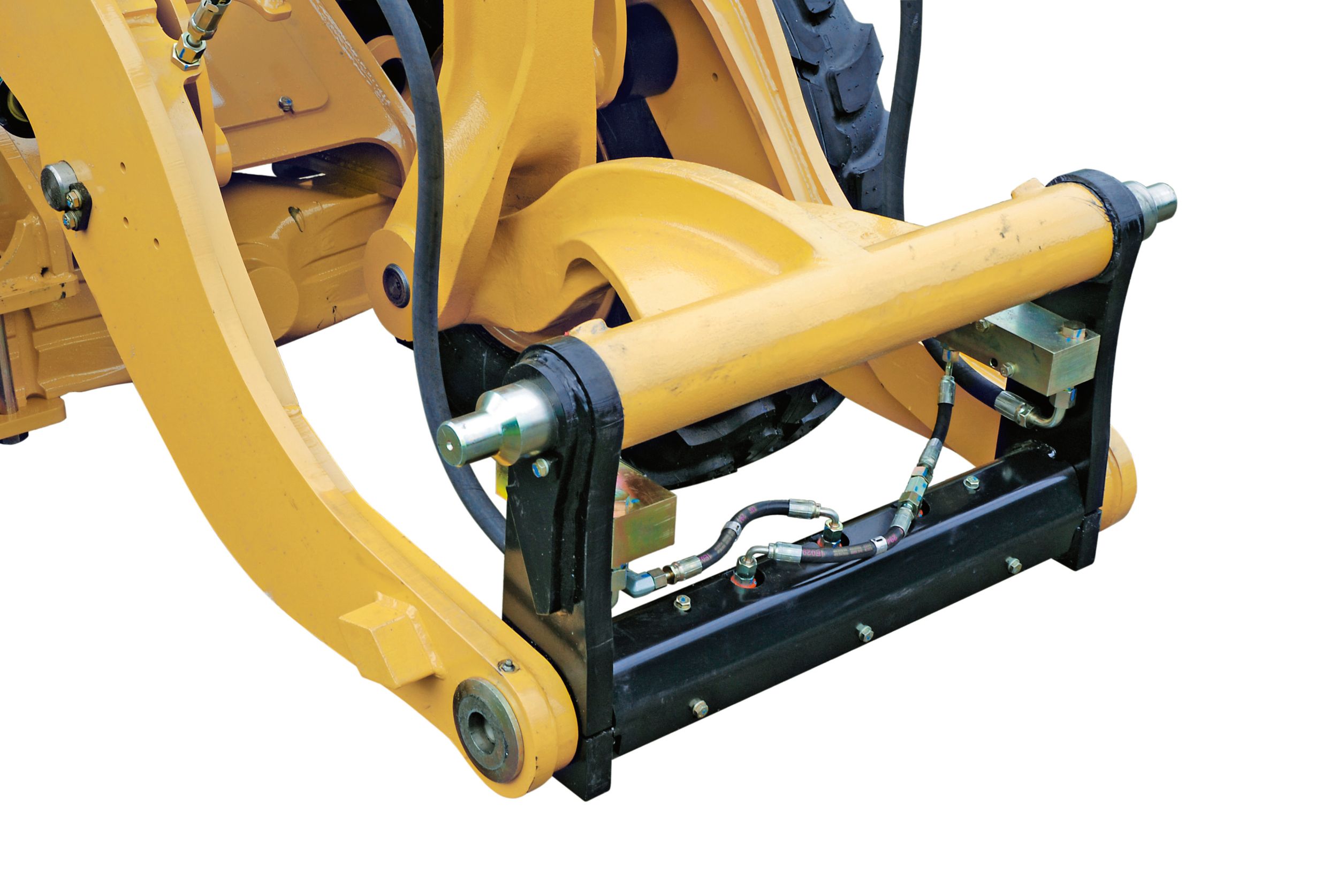 Horizontal Pin Coupler – A
This coupler is an evolution of the existing ISO horizontal pin coupler and thus has the in built durability and robust design that has been in the market place for many years.
This design gives a zero offset coupler from the machine, which optimizes the load capacity and breakout forces vs. some AEM solutions that are less integrated.
Horizontal Pin Coupler – ISO
This quick coupler will pick up a range of Cat Compact Wheel Loader work tools. The coupler along with the profiled loader arms have been designed to give maximum visibility to the work tool. A simple joystick function allows for easy engagement and disengagement of the locking pins.
Skid Steer Loader Coupler
The universal skid steer loader coupler allows the use of many Cat Skid Steer Loader work tools. Using either the standard or high flow hydraulic option, this coupler allows the M Series Compact Wheel Loaders to integrate into a skid steer loader fleet.
Hydraulics
Operator tuned hydraulics matches responsiveness to the task.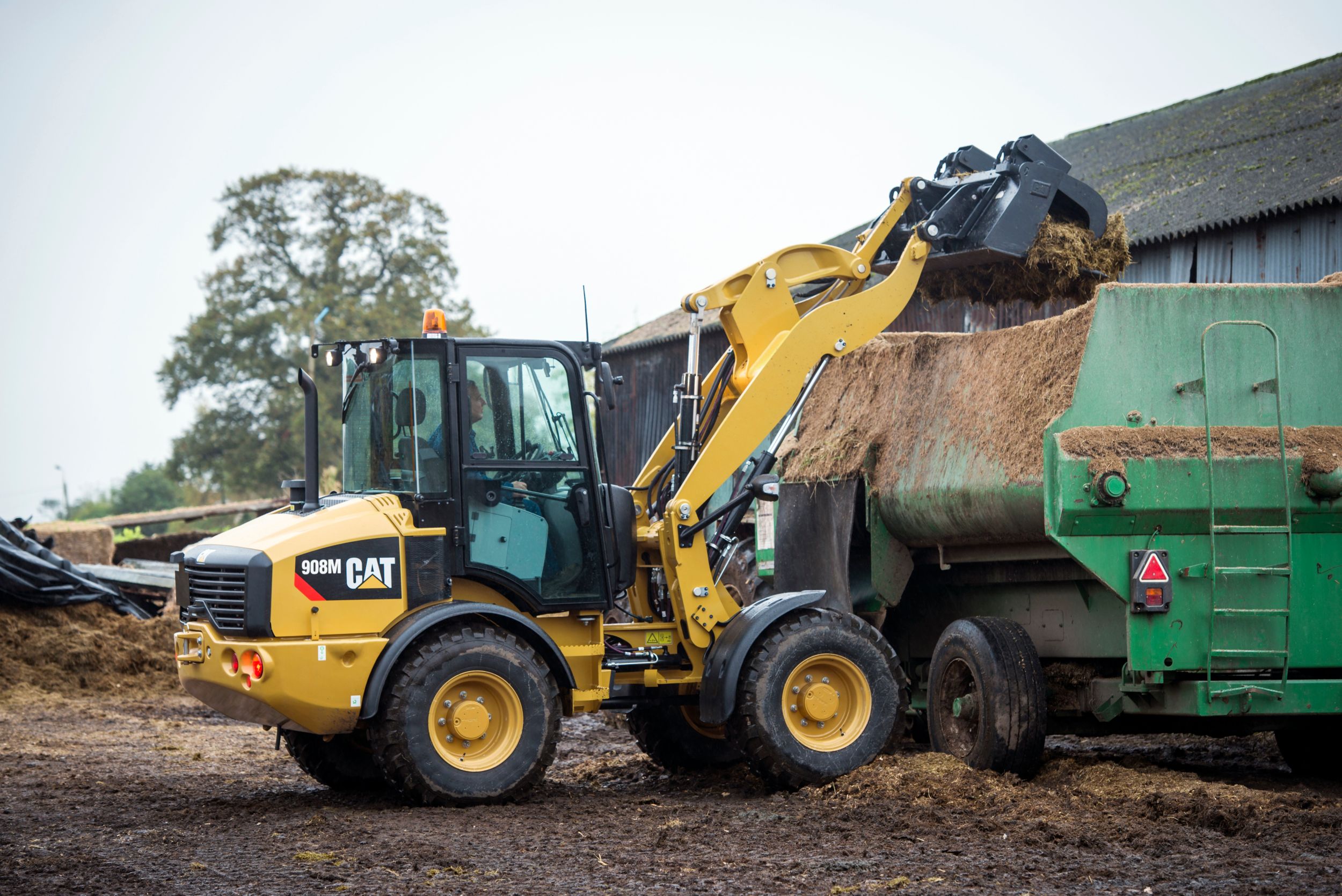 Hydraulic System
M Series machines feature a new electro-hydraulic control system, which allows the operator the ability to fine tune the machine based on the application and operator preference.
The new electronic joystick operation is finely tuned for smooth operation, yet fast cycle times.
The Implement Modulation feature provides three settings for faster, more responsive hydraulics for repetitive tasks like truck loading. Or, this feature can adjust for smoother hydraulics needed with heavy fork loads or more restrictive areas.
An electronic Return To Dig feature levels the bucket as the loader comes down after dumping. This speeds cycle times by letting the operator focus on the next dig point rather than setting the bucket position.
The third function auxiliary hydraulics can be set for Continuous Flow when using hydro-mechanical work tools.
Ride Control is available to smooth the ride, keep the tires in contact with the ground and maximize material retention.
Work Tools
Do more jobs with one machine.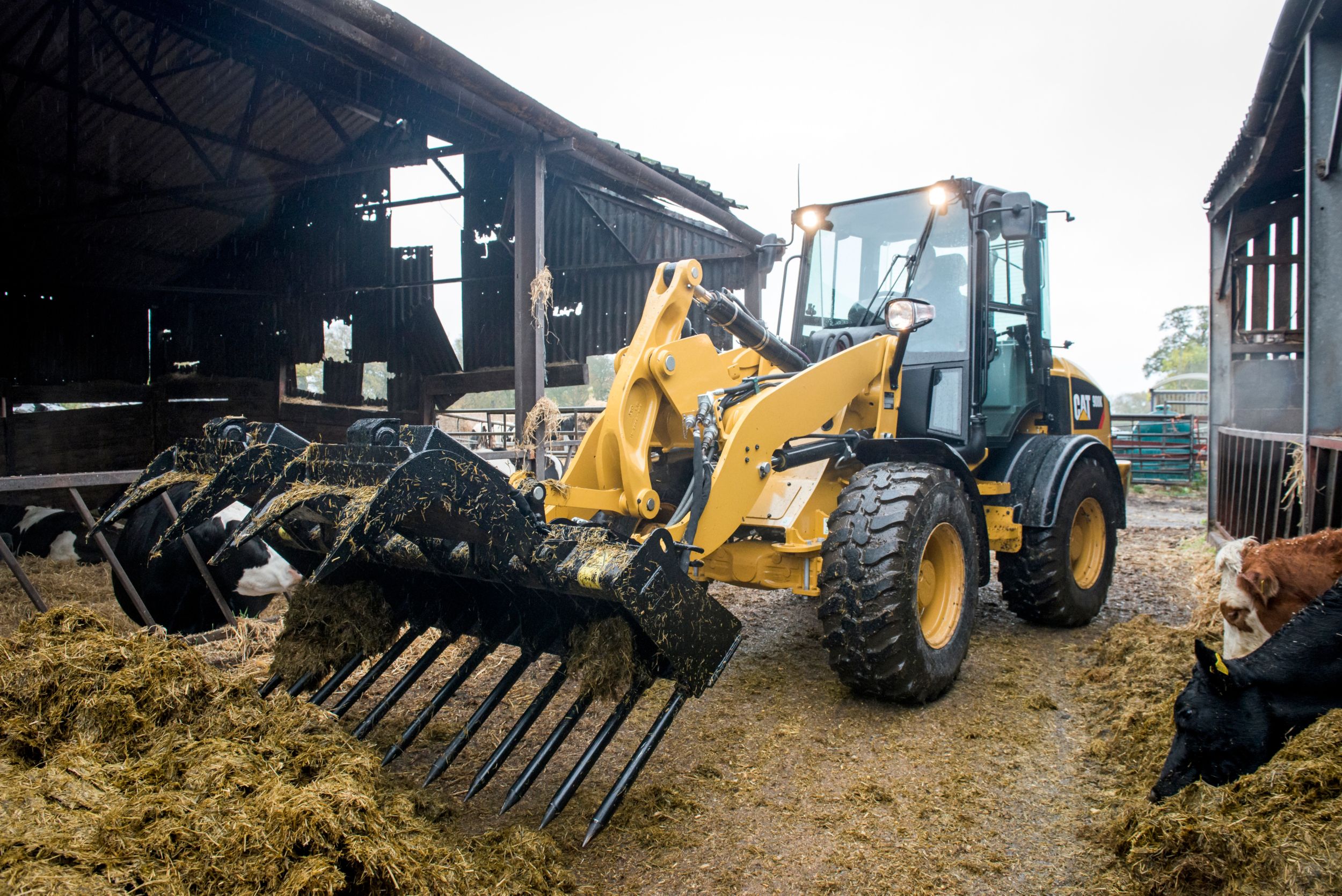 The Right Tool for the Job
An extensive range of work tools and bucket styles are available to make your Cat Compact Wheel Loader one of the most versatile machines on the job site. Cat work tools are designed to get the best out of the machine and deliver excellent value through high productivity and long life.
Work Tools for Cat Horizontal Pin Coupler
The Cat Compact Wheel Loader offers a comprehensive range of buckets to suit any environment and specific customer needs. The buckets have been designed and engineered to endure the high breakout forces of the M Series Compact Wheel Loader.
The Cat fork carriage has been designed to increase visibility to the forks, allowing the operator to work much more efficiently and safely, without compromising durability. Various fork tine lengths are available.
Work Tools for Cat Skid Steer Loader Coupler
This coupler allows the use of a wide range of Cat Skid Steer Loader work tools including many hydro-mechanical work tools such as snow blowers, cold planers, brooms and wheel saws. It is recommended to check the work tool requirements to ensure the machine is configured for optimal performance with features such as High Flow and Return To Dig.
Auxiliary Lines and Connectors
The auxiliary lines and connectors are fitted as standard, meaning the Cat Compact Wheel Loader comes ready to work.
For a complete list of available work tools please consult your local Cat dealer.
Reliability and Durability
Quality within, quality throughout.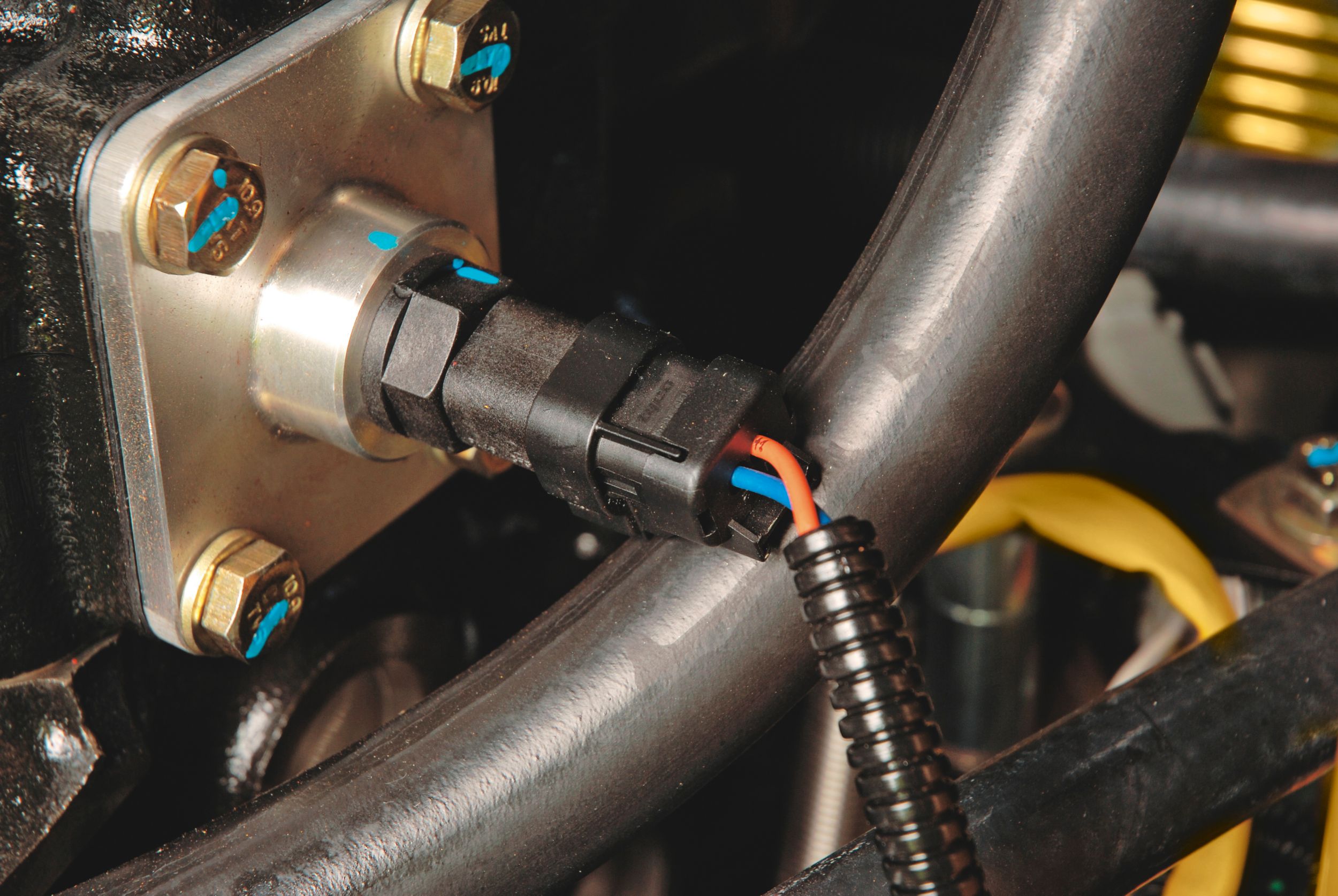 E-Coat Protection
Cat Compact Wheel Loaders undergo an extensive 24-Stage 'E-Coat' process. Zinc based electroplated undercoat and polyurethane topcoat provides unmatched corrosion resistant properties.
Heavy Duty Axles
The M Series Compact Wheel Loaders are fitted with heavy duty axles, with outboard planetary reduction gears.
Wiring
With heavy-duty braided wiring, Cat Compact Wheel Loaders offer great electrical durability. The water resistant sealed connectors prevent dust and moisture interfering with the electrics. Multicolored and numbered wiring is used for easy component identification.
Durable Design
Durability has been designed into the machine by offering protection to features such as the rear lights, loader arm and coupler greasing points.
Quality Throughout
High quality solid plastics, well-fitted rubber moldings make up the foundation of the M Series cab. Robust switches are used throughout, ensuring long life of components.
Options
Customize your machine to meet your needs.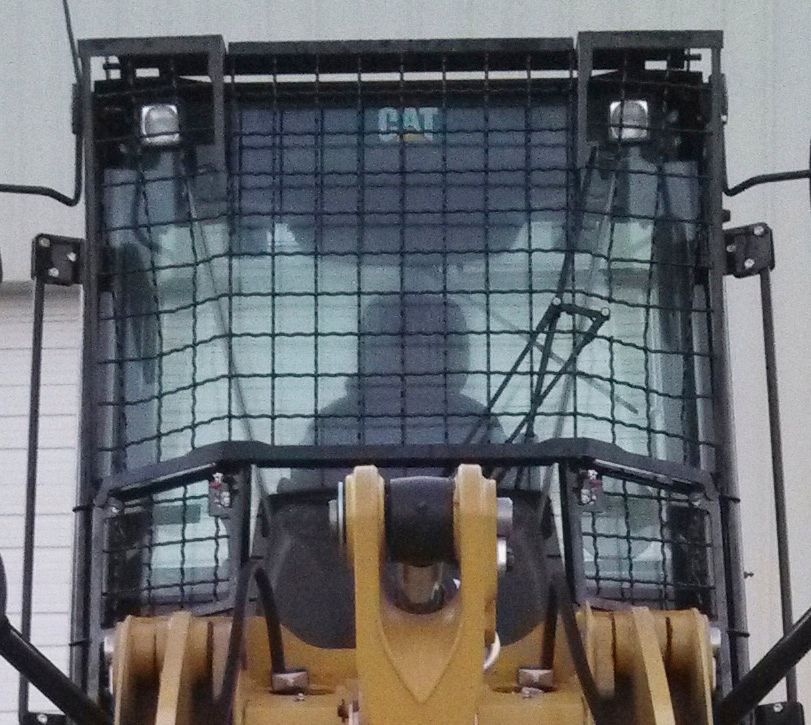 Configure the Machine the Way You Want It
A variety of options are available on the Cat M Series Compact Wheel Loaders to suit your specific operator comfort and application needs. See your Cat dealer for more information about the features below and additional options.
Coupler Options
Turbine Precleaner
Road and Load Options
Additional Lights
Air Conditioning
Machine Security
Flexport™ Tires
Windshield Guard
High Flow Auxiliary Hydraulics
ECO Drains
Work Tool Electrical Harness
Product Link™
Serviceability
Easy service to keep your machine working.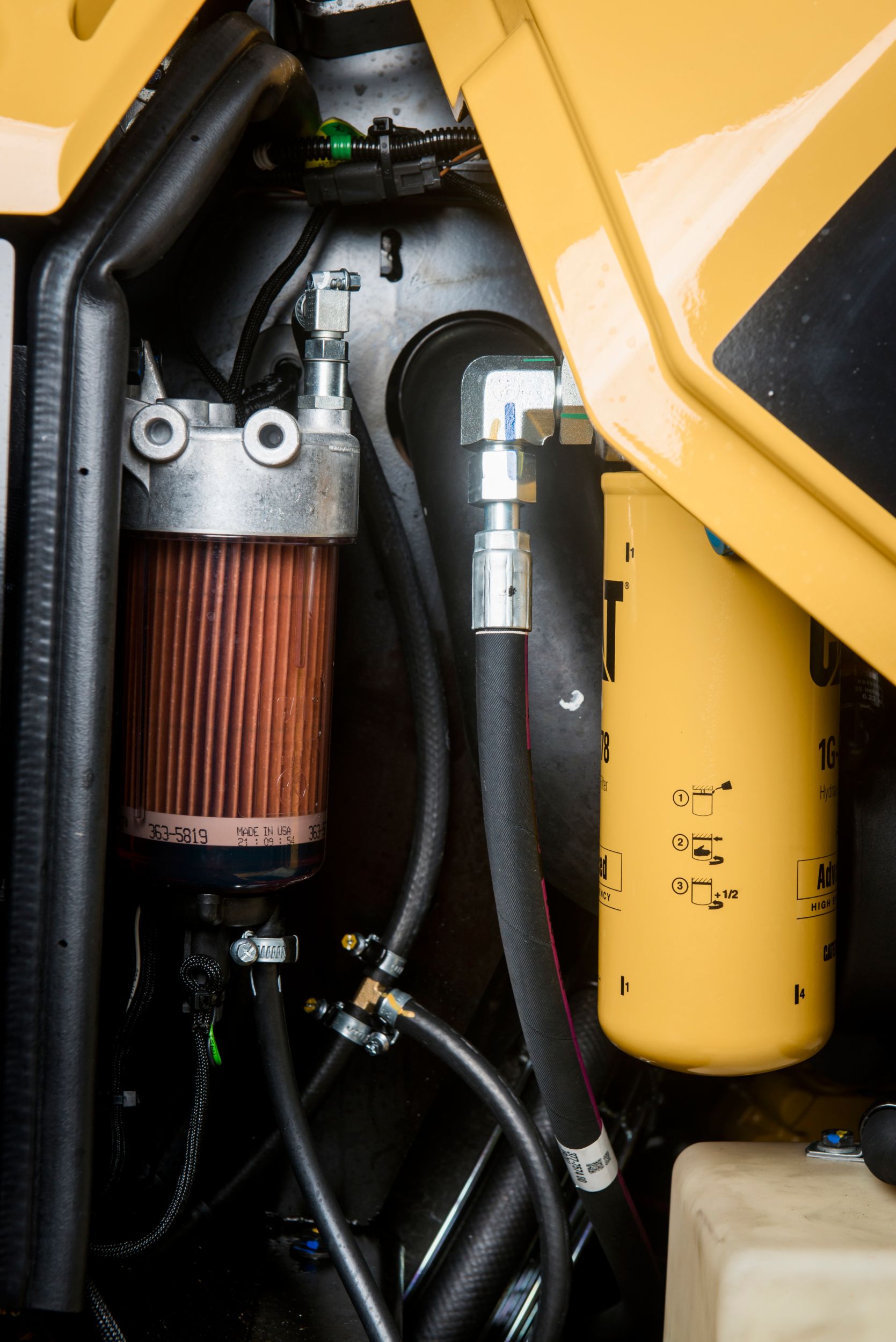 All service points are easily accessible. The rear hoods large opening allows for easy access to the engine which features all service points located on one side for easy maintenance. Extended service intervals reduce service time and maximize uptime. Additional service features include:
Remote mounted fuel and hydraulic filters.
Convenient access door for coolant fill.
Caterpillar electric fuel priming pump for ease of service.
Easy access to battery terminals for jump starts.
Ground level access to all routine maintenance items.
Easy access to hydraulic and engine coolers, which can be separated for quick cleanout.
Product Link™ ready (standard).
Customer Support
Unmatched support makes the difference.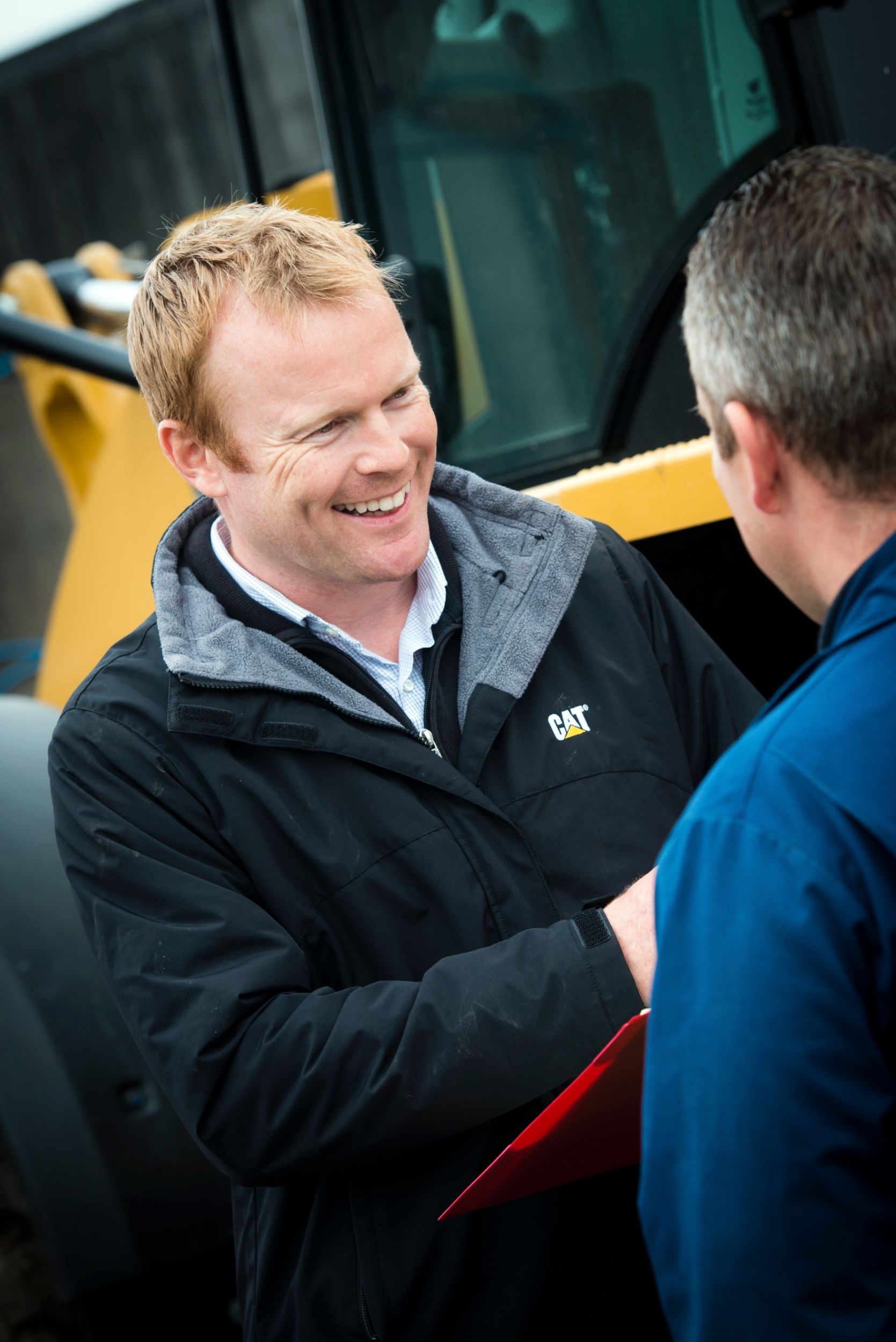 Renowned Cat Dealer Support
Your Cat dealer is ready to help you every step of the way. From new or used machine sales, to rental or rebuild options, your Cat dealer can provide an optimal solution to your business needs.
Unsurpassed worldwide parts availability, trained technicians and customer support agreements maximize your machine uptime.
For more information on Cat products, dealer services and industry solutions, visit us at www.cat.com.
Product Specs
Engine

Maximum Gross Power: ISO 14396 (DIN)

74hp

Net Power

74hp

Engine Model

Cat® C3.3B DIT*

Maximum Gross Power: SAE J1995

74hp

Maximum Gross Power: ISO 14396

73hp

Rated net power @ 2,400 rpm – SAE J1349

73hp

Rated net power @ 2,400 rpm – ISO 9249 (1977)/EEC 80/1269

74hp

Emissions

*The Cat C3.3B DIT engine meets U.S. EPA Tier 4 Final/EU Stage IIIB emission standards or Tier 4 Interim/Stage IIIA equivalent emission standards.

Maximum Gross Power

73hp

Maximum gross torque – ISO 14396

192lbf-ft

Maximum net torque – SAE J1349

189lbf-ft

Maximum net torque – ISO 9249 (1977)/EEC 80/1269

191lbf-ft

Displacement

201in3

Bore

3.7in

Stroke

4.7in

Note

Net power ratings are tested at the reference conditions for the specified standard.

Note

Net power shown is the power available at the flywheel when the engine is equipped with alternator, air cleaner, diesel exhaust filter, and fan at minimum speed.

Note

No derating required up to 3000 m (10,000 ft) altitude. Auto derate protects hydraulic and transmission systems.

Note

Flywheel per the SAE reference conditions with the fan at maximum speed.

Note

The Cat C3.3B Tier 4 Final/Stage IIIB uses an active regeneration system which requires no operator interaction under normal conditions.

Weights

Operating Weight

12677lb

Note

Specifications shown are for a machine configured with general purpose buckets, bolt-on cutting edges, 75 kg (165 lb) operator, Dunlop 405/70 SPT9 tires, full fuel, comfort EROPS cab, standard flow hydraulics and skid-steer coupler. – 907M is configured w

Operating Specifications

Rated Bucket Capacity

1.31yd3

Full Turn Tipping Load

7716lb

Tipping load – straight (ISO 14397-1)

9007lb

Tipping load – full turn (ISO 14397-1)

7339lb

Clearance: full lift and 45° dump

7.97ft

Reach: full lift and 45° dump

2.60ft

Steering articulation angle each direction

39°

Loader Hydraulic System

Maximum flow – implement pump

19gal/min

Maximum flow – implement pump: Auxiliary function standard flow

19gal/min

Maximum flow – implement pump: Auxiliary function high flow

31gal/min

Maximum working pressure – implement pump

3408psi

Relief pressure – tilt cylinder head

4496psi

Relief pressure – tilt cylinder rod

2756psi

3rd function maximum working pressure

3408psi

Tilt cylinder: double acting – Rod diameter

2.2in

Tilt cylinder: double acting – Stroke

16.4in

Hydraulic cycle times (1,800 rpm): Raise (ground level to maximum lift)

5.5seconds

Hydraulic cycle times (1,800 rpm): Dump (at maximum lift height)

1.5seconds

Hydraulic cycle times (1,800 rpm): Float down (maximum lift to ground level)

2.6seconds

Hydraulic cycle times (1,800 rpm): Total cycle time

9.6seconds

Hydraulic cycle times (1,000 rpm): Raise (ground level to maximum lift)

9.6seconds

Hydraulic cycle times (1,000 rpm): Dump (at maximum lift height)

3seconds

Hydraulic cycle times (1,000 rpm): Float down (maximum lift to ground level)

2.6seconds

Boost flow maximum pressure

3191psi

Lift cylinder: double acting – Bore diameter

3in

Lift cylinder: double acting – Rod diameter

2in

Lift cylinder: double acting – Stroke

27.4in

Tilt cylinder: double acting – Bore diameter

3.5in

Service Refill Capacities

Cooling system

4.5gal

Fuel tank

20.6gal

Hydraulic system (including tank)

18.5gal

Engine crankcase

3gal

Transmission (gear box)

2.2gal

Axles – Front

N/A

Axles – Rear

N/A

Hydraulic tank

12.2gal

Dimensions with Bucket (Approximate): Standard Lift – with ISO Coupler

Height: ground to cab**

8.42ft

Height: ground clearance**

11in

Length: wheel base

7.08ft

Length: overall*

17.92ft

Reach: bucket at 45°*

2.33ft

Dig depth**

3.7in

Clearance: bucket at 45°*

8.08ft

Clearance: level bucket**

9.92ft

Height: bucket pin**

10.58ft

Width: bucket

6.67ft

Width: tread center

4.58ft

Turning radius: over bucket

14.67ft

Turning radius: inside of tires

7.33ft

Machine width

6.00ft

Dump angle at full lift

45°

Departure angle

33°

Articulation angle

39°

Operating weight

12913lb

Note

*Vary with bucket.

Note

**Vary with tire.

Note

Dimensions listed are for a machine configured with general purpose buckets, bolt-on cutting edges, 75 kg (165 lb) operator, no air conditioner and Dunlop 405/70 SPT9 tires.

Dimensions with Bucket (Approximate): Standard Lift – with SSL Coupler

Height: ground to cab**

8.42ft

Height: ground clearance**

11in

Length: wheel base

7.08ft

Length: overall*

18.42ft

Reach: bucket at 45°*

2.67ft

Dig depth**

4.2in

Clearance: bucket at 45°*

7.67ft

Clearance: level bucket**

9.92ft

Height: bucket pin**

10.58ft

Width: bucket

6.67ft

Width: tread center

4.58ft

Turning radius: over bucket

14.67ft

Turning radius: inside of tires

7.33ft

Machine width

6.00ft

Dump angle at full lift

45°

Departure angle

33°

Articulation angle

39°

Operating weight

12913lb

Note

*Vary with bucket.

Note

**Vary with tire.

Note

Dimensions listed are for a machine configured with general purpose buckets, bolt-on cutting edges, 75 kg (165 lb) operator, no air conditioner and Dunlop 405/70 SPT9 tires.

Drive Train

Forward – Range 1

6mph

Forward – Range 2

12mph

Forward – High range

22mph

Reverse – Range 1

6mph

Reverse – Range 2

12mph

Reverse – High range

22mph

Tires

Option

335/80 R18 XZSL Michelin

Option

340/80 R18 AT-R Firestone

Option

340/80 R18 XMCL Michelin

Option

340/80 R18 TRI2 Nokian

Option

340/80 R18 Bibload Michelin

Option

405/70 R18 SPT9 Dunlop*

Option

12.5/80 R18 Flexport™

Note

*Standard tire.

Note

Other tire choices available, contact your Cat dealer for details.

Note

In certain applications, the loader's productive capabilities may exceed the tires' tonnes-km/h (ton-mph) capabilities.

Note

Caterpillar recommends that you consult a tire supplier to evaluate all conditions before selecting a tire model.

Cab

ROPS

SAE J1040 MAY94, ISO 3471-1994.

FOPS

SAE J/ISO 3449 APR98, Level II, ISO 3449 1992 Level II.

Note

Cat cab and Rollover Protective Structures (ROPS) are standard in North America and Europe.

Note

When properly installed and maintained, the cab offered by Caterpillar, when tested with doors, and windows closed as per work cycle procedures specified in ISO 6395 2008, results in operator sound exposure Leq (Equivalent sound pressure level) of 66 dB(A

Buckets

Bucket Capacities

0.75 m3-1.2 m3 (1.0 yd3-1.6 yd3)

General purpose

1.31yd3

Light material

1.57yd3

Steering

Steering articulation angle each direction

39°

Steering cylinder: double acting – Bore diameter

3.1in

Steering cylinder: double acting – Rod diameter

1.4in

Steering cylinder: double acting – Stroke

11.8in

Nominal flow – steering pump

12gal/min

Maximum working pressure – steering pump

3191psi

Maximum steering torque – 0° (straight machine)

37155lbf-ft

Maximum steering torque – 39° (full turn)

27747lbf-ft

Steering ac cycle times (full left to full right) – 2,620 rpm

3seconds

Number of steering wheel turns – Full left to full right or full right to full left

<6 turns
Equipment
Transmission And Hydraulics

100% differential lock on both axles, selectable on the move
18° frame oscillation, 78° articulation
Demand based cooling fan
Hydrostatic drive
Loader arm float function
Parallel lift Z-bar loader
Proportional auxiliary hydraulic circuit
Transmission, 20 km/h (12.4 mph) with heavy duty axles
Transmission inching function

Engine

Cat C3.3B DIT Tier 4 Final/EU Stage IIIB or Tier 4 Interim/Stage IIIA engine
Cat extended life coolant
Closed circuit breather
Easy quick release fuel filter/water separator
ECO mode
Engine oil drain valve (non-spill ECO drain)
Lockable engine compartments
Two stage air cleaner with visual indicator

Electrical

Alternator 90 amp
Battery disconnect switch
Cab mounted fuse panel
Engine cold starter aid
Heavy duty battery, 12V
Service point connector for electronic diagnosis (Cat Electronic Technician™)
Reversing alarm

General

E-coat paint primer
Pressure test points
Recovery hitch and pin
Scheduled Oil Sampling S·O·SSM ports

Operator Environment

Adjustable internal mirror
Adjustable wrist rest
Auxiliary power sockets
Coat hook
Cup holder
Digital service hour meter
Easy clean cab floor
Gauges: fuel hydraulic temperature, coolant temperature, speedometer
Multifunction joystick with direction control
On board digital display cluster
Operator station on isolation mounts
Retractable seat belt
ROPS and FOPS certified canopy/cab
Sound suppression
Sun visor
Suspended brake/accelerator pedals
Suspension seat
Two external knock back mirrors
Warning indicators for major systems
Warnings: master, park brake, hydraulic oil pressure, engine oil pressure, coolant temp, electrical system, hydraulic filter bypass
Transmission And Hydraulics

Adjustable speed control (creeper control)
Adjustable high stat response settings
Electronic throttle lock
Ride control
Rimpull control
Speeder, 35 km/h (21.7 mph) with secondary steering

Engine

Engine block heater 120V
Precleaner for engine air filter

Electrical

Machine Security System (MSS)
Magnetic rotating beacon
Working lights, two front and two rear
Work tool wiring harness

General

Custom color
Rear light guards
Tire options including heavy duty tires

Fluids

Cat extended life coolant (–50° C/–58° F)

Loader

Adjustable implement modulation
High flow auxiliary hydraulics with pressure relieving quick disconnect manifold
Load check valves
Return To Dig tool positioner

Work Tools

For all work tool options, consult your local Cat dealer

Operator Environment

Air conditioning
Cabin light
Cat Radio/CD/MP3/WMA/AUX
Comfort cab includes: cloth suspension seat, heated rear window, sliding left window and radio ready)
Deluxe cab includes: Comfort cab options plus heated cloth air suspension seat with lumbar support and right sliding window
Heated rear window (enclosed cab)
Heater with window side and feet vents (enclosed cab)
Radio ready kit including speakers (enclosed cab)
Rear blind
Two doors (enclosed cab)
Wiper/washer front and rear (enclosed cab)
Find a Whayne CAT

Location

or

Rep

Near You