Cat Excavators:
345B L Series II UHD Hydraulic Excavator
Engine Model

Cat® 3176C ATAAC

Net Flywheel Power

321.0 hp

Operating Weight

111180.0 lb

Maximum Travel Speed

2.73 mph
The 345B L Series II Ultra-high demolition is heavy-duty purpose built for your demolition job.
---
---
Benefits & Features
Booms, Sticks and Working Tools
Maximum versatility gets the best out of your machine.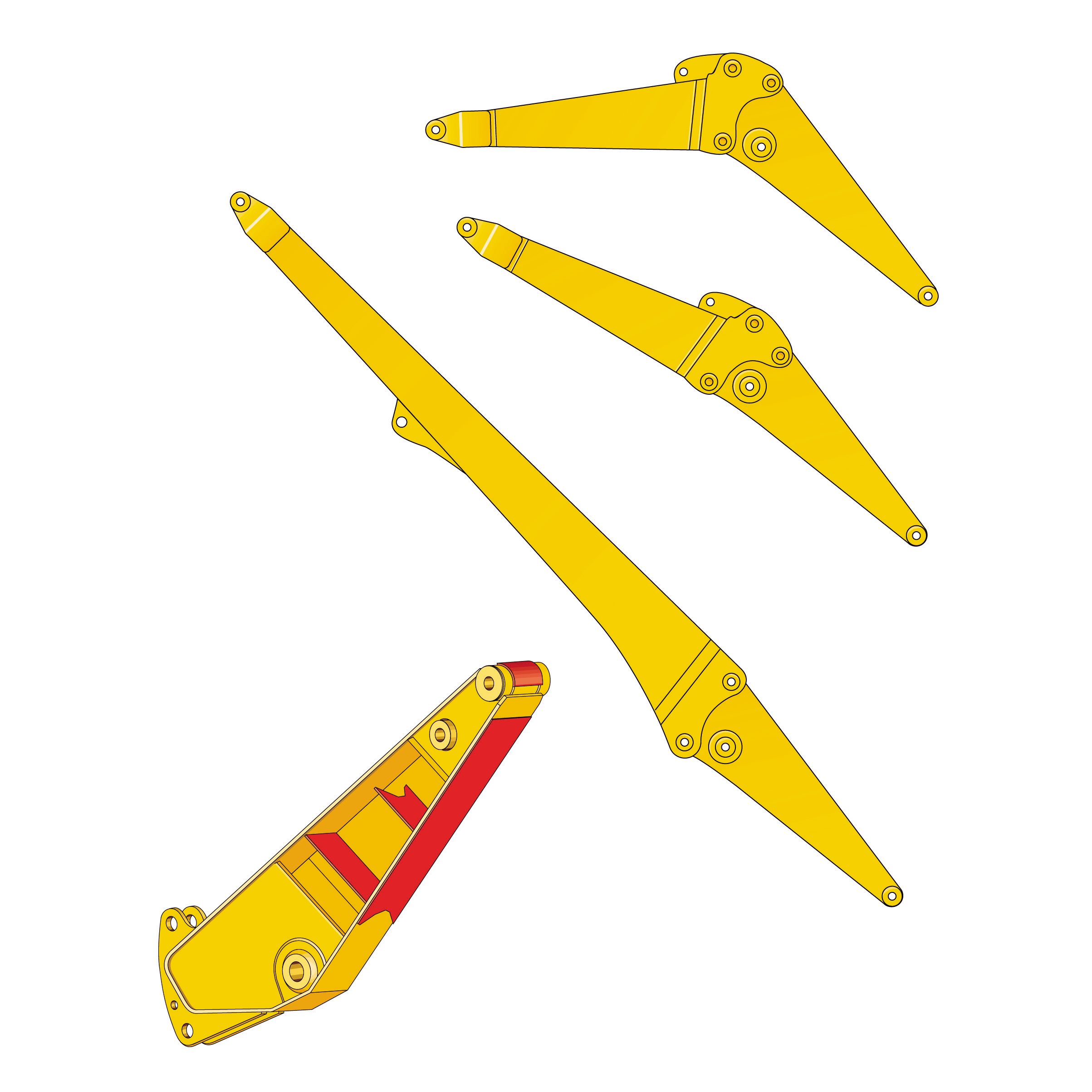 Demolition Sticks
Purpose built demolition sticks have additional internal reinforcements, heavier plates, through hardened bores, and a bottom wear plate and match the short boom nose.
Two Piece Main Boom
Two piece main boom with pin-mounted joint between boom foot and boom nose.
Electronic Warning Device
An electronic warning device signals the operator when the main boom gets out of the recommended working range.
Retrofit Capability
Short 2-position boom nose on boom foot can be mounted in a straight (demolition) or bent (digging) position, adding to the machine's extreme versatility.
Special Stand
Special stand to support long boom or short retrofit boom when changing configuration.
Lowering Control Devices
Lowering control devices are installed on all boom and stick cylinders.
Work Tools
Choose from a variety of Caterpillar work tools such as concrete crushers and pulverizers, steel shears, demolition grapples, hydraulic hammers, quick couplers, and multi-processors.
Undercarriage
Durable undercarriage absorbs stresses and provides excellent stability.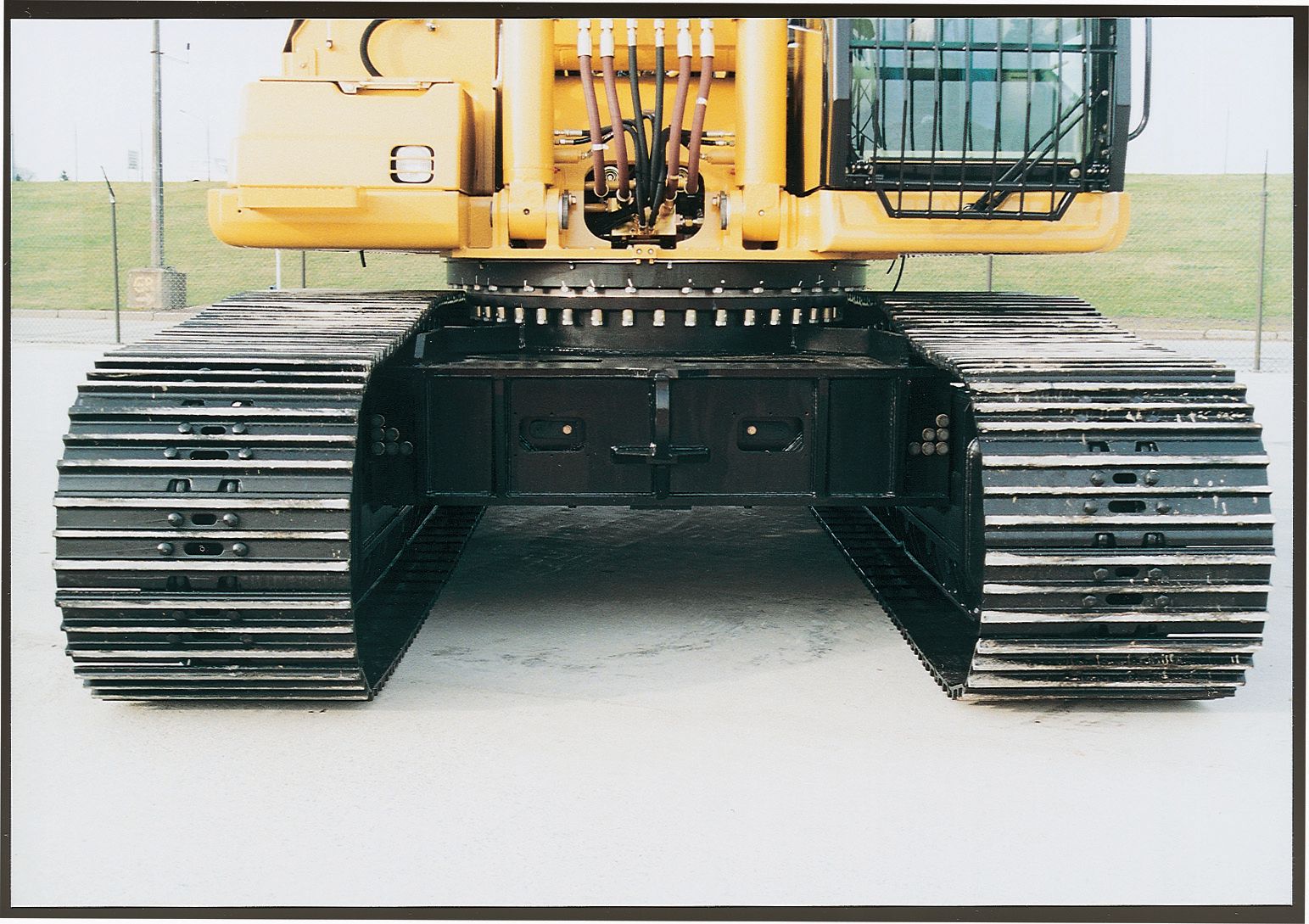 The L Undercarriage
The L Undercarriage provides a stable and rugged working platform for demolition.
Track Guiding Guards
Full length track guiding guards complete the machine's guarding package.
Optional Hydraulic Adjustable Undercarriage
The optional hydraulic adjustable undercarriage increases the stability by lowering the center of gravity of the machine, resulting in the usage of a bigger tool. The non-bolt joint allows changing from shipping to working width or reverse in less than a minute.
Operator Station
Designed for comfort and ease of operation.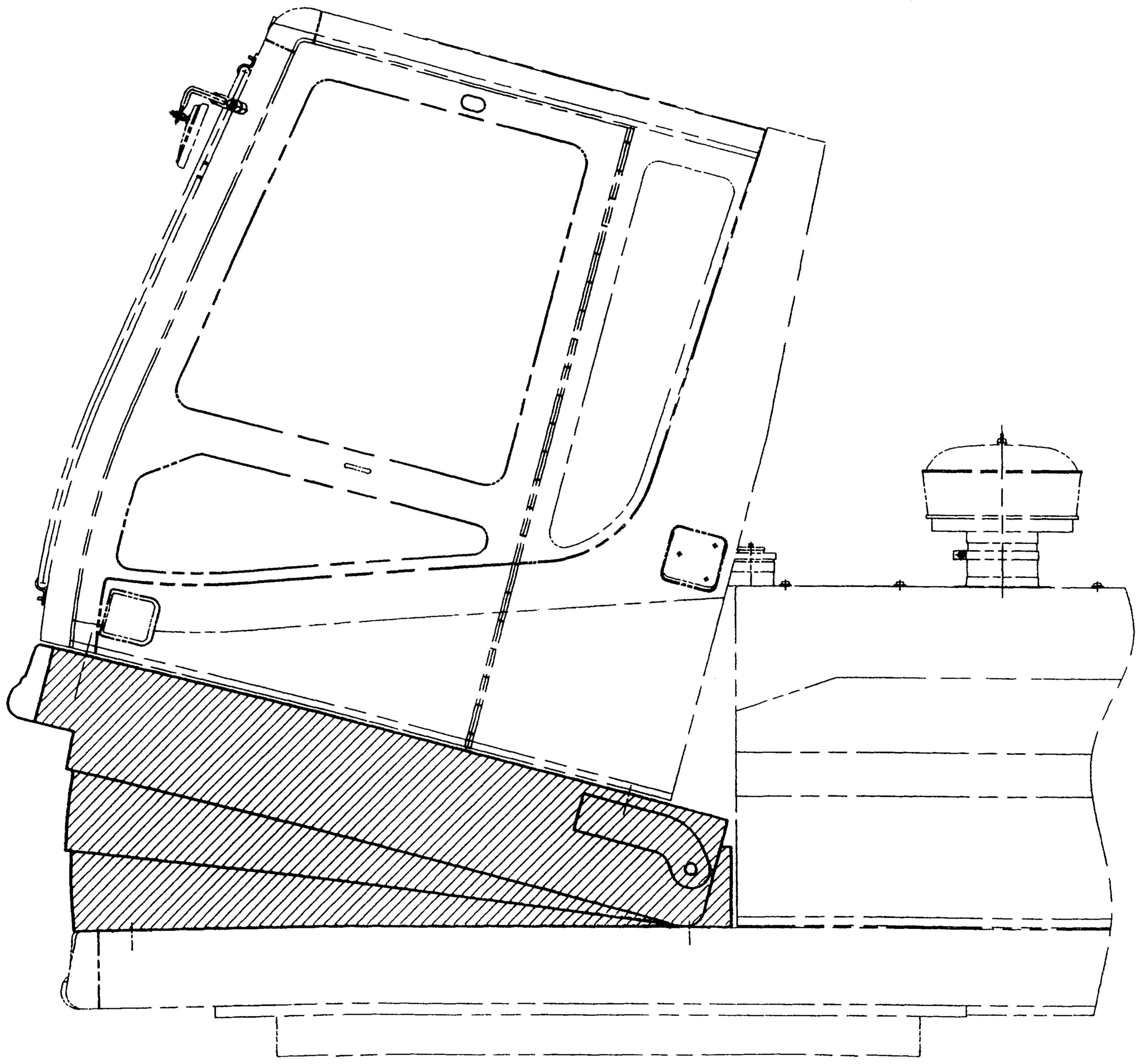 Ergonomic Control Placement
This operator work station is quiet with ergonomic control placement and convenient adjustments, low lever and pedal effort, ergonomic seat design, and highly efficient ventilation. The result is a cab that puts the operator firmly and comfortably in control to enhance productivity.
High Visibility Cab
High visibility cab with the front window made out of laminated safety glass. For enhanced upward visibility, the top window extends completely to the front. The front window is one-piece and flat with top and bottom mounted wipers. The upper left side door window can slide open. The lower window provides visibility to the tracks and to the ground next to the machine. The rear window offers a good view behind and to the left, aided by a lower hood profile.
Falling Object Guard
Falling object guard on the top and front is standard. Crossbars of top guard are angled in line with sight for enhanced visibility to the tool.
Hydraulically tilting cab support
Hydraulically tilting cab support allows the cab to be tilted back from 0 to 15 degrees to further improve upward visibility. This optional equipment allows the operator to adopt a more comfortable body postition. The tiltable cab support platform, which is operated via a key switch, is a 30 cm (12") high insert between skirt and cab. It also moves the cab 20 cm (8") forward to create the space for a tilt angle of 15 degrees.
Product Specs
Engine

Engine Model

Cat® 3176C ATAAC

Net Flywheel Power

321.0hp

Net Power – ISO 9249

321.0hp

Net Power – SAE J1349

321.0hp

Net Power – EEC 80/1269

321.0hp

Bore

4.92in

Stroke

5.51in

Displacement

630.0in3

Weights

Operating Weight

111180.0lb

Operating Weight – Long Undercarriage

111180.0lb

Operating Weight – Standard Undercarriage

111180.0lb

Drive

Maximum Travel Speed

2.73mph

Maximum Drawbar Pull – Long Undercarriage

74380.0lb

Hydraulic System

Main System – Maximum Flow (Total)

95.1gal/min

Maximum Pressure – Equipment – Normal

4980.0psi

Maximum Pressure – Travel

4980.0psi

Maximum Pressure – Swing

4130.0psi

Pilot System – Maximum Flow

10.8gal/min

Pilot System – Maximum Pressure

675.0psi

Boom Cylinder – Bore

6.7in

Boom Cylinder – Stroke

61.0in

Stick Cylinder – Bore

7.5in

Stick Cylinder – Stroke

69.2in

Service Refill Capacities

Fuel Tank Capacity

190.0gal

Cooling System

12.0gal

Engine Oil

7.9gal

Swing Drive (each)

2.9gal

Final Drive (each)

4.0gal

Hydraulic System (including tank)

137.0gal

Hydraulic Tank

55.0gal

Sound Performance

Performance

ANSI/SAE J1166

Standards

Brakes

SAE J1026, ISO10265

Cab/FOGS

SAE J1356, ISO 10262

Swing Mechanism

Swing Speed

8.6RPM

Swing Torque

110260.0lb ft

Track

Number of Track Rollers (each side) – Standard Undercarriage

9

Number of Carrier Rollers (each side)

2

Operating Specifications

Max Reach at Ground Level

83.99ft

Max Digging Depth

21.36ft
Equipment
Air precleaner
Alternator, 52-amp
Automatic engine speed control
Automatic swing parking brake
Auxiliary outletport on tank with screen

Bucket Linkage

Engine:

Caterpillar 3176 ATAAC diesel engine with 24-volt electric starting and air intake heater

High Visibility Cab

Air conditioner with automatic climate control
Ash tray with cigar lighter
Coat hook
Drink holder
Floor mat
Heater and defroster
Horn
Instrument panel with gauges
Gauges and indicator lights for fuel level, coolant temperature and hydraulic oil temperature
Light, interior
Literature compartment
Lowering control devices
Low fuel indicator light
Joysticks, adjustable pilot-operated
Prewired radio mounting
Positive filtered ventilation
Seat belt, retractable
Seat, suspension, fully adjustable
Stationary skylight
Storage compartment suitable for a lunch box cooler
Travel control pedals
Two-speed auto shift travel
Windshield wiper and washer

Combined auxiliary hydraulic circuit
Counterweight
Door locks and caps locks with Caterpillar one-key security system
Falling object guard, top and front
Fine swing control
Full length track guiding guards
Fully pressurized hydraulic system
Heavy duty bottom guards
Heavy duty underhouse
High ambient cooling
Hydraulic neutralizer lever for all controls

Lights, Working

Frame mounted, one
Boom, both sides
Cab mounted, two

Mirrors, frame and cab
Muffler
Pre-start monitoring system
Polycarbonate and glass windows
Power Mode Selector
Power train
Return filter clogging alarm
Water separator
Work Mode Selector

Undercarriage

Hydraulic track adjusters
Track-type sealed undercarriage
600 mm (24") triple-grouser shoes
Hydraulically tilting cab support
Refueling pump
Starting aid, cold weather
Starting aid, ether
Straight travel third pedal option
Sun screen

Track:

600 (24") mm heavy duty double-grouser shoes

Undercarriage
Find a Whayne CAT

Location

or

Rep

Near You